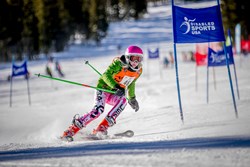 'The Diana Golden Race Series provides youth and others with disabilities opportunities throughout the Northeast, to experience the challenge and thrill of competition in a supportive environment.' - Kirk Bauer, Executive Director, DSUSA
Rockville, MD (PRWEB) January 23, 2014
The 2014 Diana Golden Alpine Ski Race Series, hosted by Disabled Sports USA Northeast chapters, will provide hundreds of ski racers with varying abilities the opportunity to race. For many, it will be their first race and for others it is another step towards the Paralympic ski racing podium.
"The Diana Golden Race Series provides youth and others with disabilities opportunities throughout the Northeast, to experience the challenge and thrill of competition in a supportive environment. Disabled Sports USA thanks its chapters and sponsors for making this possible," said Kirk Bauer, executive director of Disabled Sports USA and a disabled Vietnam veteran.
Racers can compete in either the Diana Golden Division, which is for athletes with physical disabilities, or the Mills Cup Division, which is for athletes with intellectual disabilities. Diana Golden Division athletes will compete in one of three categories: visually impaired, sitting, or standing. The top female and male racers between the ages of 13 and 25 years in the Diana Golden Division will receive a Diana Golden Opportunities scholarship to attend the week-long National Race Festival Camp, which is one of the nation's premier training camps for emerging ski racers, hosted at Disabled Sports USA's annual The Hartford Ski Spectacular in Breckenridge, CO.
Established in 2003, the race series is named in memory of Diana Golden, one of the most successful U.S. disabled alpine ski athletes. The upcoming race schedule includes:
January 12th: New England Disabled Sports, Bretton Woods Ski Resort, NH
January 25th: Ability Plus, Mt. Snow Ski Resort, VT
February 8th: Pennsylvania Center for Adapted Sports, Camel Back Ski Resort, PA
February 22nd: Adaptive Sports Foundation at Windham Ski Resort, NY
February 22nd: Maine Adaptive Sports and Recreation, Sunday River Ski Resort, ME
March 8th: Lakes Region Disabled Sports at Gunstock Ski Resort, NH
March 15th: Stride Adaptive Sports, Jiminy Peak Ski Resort, MA
March 23rd: New England Handicapped Sport, Mt. Sunapee Ski Resort, NH
For more information on the race series, to register or view the race results, click here.
Disabled Sports USA major sponsors include: AIG, Ariel Corporation, WellPoint Foundation, Wash Depot Holdings, and others.
About Disabled Sports USA
Founded in 1967, Disabled Sports USA is a 501(c)(3) charitable organization that provides opportunities for individuals with disabilities to develop independence, confidence and fitness through participation in sports. What began as a program to serve disabled Vietnam veterans has since grown into one of the nation's largest multi-sport, multi-disability organizations, annually serving more than 60,000 wounded warriors, youth and adults with disabilities. A member of the U.S. Olympic Committee, Disabled Sports USA offers programs in more than 40 summer and winter sports through its nationwide network of more than 100 community-based chapters. For more information, visit http://www.disabledsportsusa.org.