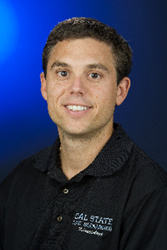 I am conscious of a soul-sense that lifts me above the narrow, cramping circumstances of my life. My physical limitations are forgotten- my world lies upward, the length and the breadth and the sweep of the heavens are mine!... Helen Keller
San Francisco, CA (PRWEB) October 14, 2014
Howard Brodwin, Principal of Sports and Social Change is an associate, contributor, supporter and friend of the Blind Judo Foundation who two years ago established a relationship with the DisAbility Sports Festival management thereby bringing blind Judo as one of the 24 sports being offered at the 2014 Festival.
Dr. Aaron Moffett, Professor of Kinesiology at CSUSB and creator of the Festival says "Judo is a welcomed addition to the slate of activities planned once again for the 2014 Festival." He goes on to say "most disabled individuals might not consider introductions to Judo, but from the 2013 Festival feedback, Judo needed to be included in the venue and the Blind Judo Foundation came through once again."
The Blind Judo Foundation reached out to a southern California friend of the Blind Judo Foundation by the name of Sensei Walter Dean. Coach Dean was the Assistant US Paralympic Judo Coach at the 2000 Paralympic Games in Sydney, Australia and has a long history of promoting, training and supporting Judo both domestically and internationally.
Sensei Walter Dean graciously accepted the opportunity to represent the Blind Judo Foundation introducing Judo for the second time in the history of the DisAbility Sports Festival. Sensei Dean is an International Blind Sports Association (IBSA) Delegate for the Pan Americas representing the Judo Committee of IBSA for North and South America and all islands within that area.
The DisAbility Sports Festival is a free, one-day event offering people with disabilities the opportunity to try over 20 different sports and physical activities, and connect with local sports clubs, leagues & programs in their community.
This annual event brings together over 1,000 people with disabilities from across the Western United States - including more than 100 US military "wounded warriors" - and is open to people of ALL ages with ANY physical or developmental disability. Coaches and demonstrators are elite level, internationally competing athletes with a disability including current and former US Paralympic team members and World Champions.
The 8th Annual Disability Sports Festival, presented by Molina Healthcare, will be held Saturday October 18, 2014 from 9:00am - 3:30pm on the campus of California State University, San Bernardino, 5500 University Parkway, San Bernardino, CA 92407. Interested participants can register online at http://www.imathlete.com/events/EventDetails.aspx?fEID=21099. On-site registration will also be available.
More information can be found by contacting the DisAbility Sports Office at 909-537-5352 or by email at sportsfes(AT)csusb.edu.
About us:
The Blind Judo Foundation is a nonprofit 501(c) (3) organization that introduces and trains blind and visually impaired children, young adults and returning blind and visually impaired military men and women in the sport of Judo. Supporting our blind athletes to train, travel and compete relies upon tax-exempt donations.
All members of the Blind Judo Foundation are volunteers. A select few of our elite athletes go on to represent the USA as members of the US Paralympic (not to be confused with Special Olympics) Judo Team. Check out the Foundation and our Facebook page at http://www.facebook.com/BlindJudoFoundation or by contacting Ron C. Peck at roncpeck(at)blindjudofoundation(dot)org and 1-425-444-8256.