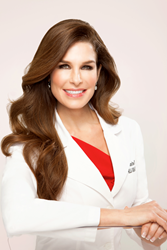 I offer my patients a range of treatments that result in a youthful glow and natural radiance.
Calabasas, CA (PRWEB) March 05, 2014
Have questions about beauty from the expert featured on national television? Want to know what products and procedures celebrities love -- what works and doesn't work in the beauty world? With over 12,000 patients and 11 years of experience, board-certified dermatologist Dr. Anna Guanche is an expert in her field. She has been on numerous television shows including Extra.
In her own medical practice, Dr. Anna focuses her attention on numerous non-invasive procedures which yield effective, long-lasting, natural appearing results with minimal to no downtime. Her celebrity favorites include: Ultherapy for a non-surgical facelift, Coolsculpting for freezing the fat away, and Thermage for skin tightening and firming the skin. Dr. Anna also uses her artistic eye coupled with advanced filler techniques to achieve natural injectable results for her special clientele. Dubbed the "Filler Queen," Dr. Anna currently prefers to use Botox and Juvederm as well as the new Juvederm Voluma to achieve natural, youthful looking results.
With an eye on new projects, keep a look out for Dr. Anna Guanche in news media, social media, and in fashion magazines. Additionally, Dr. Anna has been asked to speak to exclusive groups regarding celebrity beauty secrets. Newly discovered by fashion photographer to the stars Troy Jensen, Dr. Anna has become Troy's latest muse and will grace the covers of numerous fashion photography books as well as fashion spreads. http://www.troyjensen.com/Dr-Anna-Guanche-Jouer-Beauty-Look
Can we say a reality show is waiting to happen?
Dr. Anna is available for interviews and appearances.
For inquiries about Anna D Guanche MD or Bella Skin Institute, please contact afidani(at)bellaskininstitute(dot)com.
For more information, visit the Bella Skin Institute website.
Social Media Links:
https://www.facebook.com/pages/Bella-Skin-Institute/294004720084