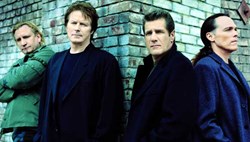 New York, New York (PRWEB) January 07, 2014
In 2013, the Eagles tour broke all kinds of records. Coming off one of their best years ever, the Eagles have decided to hit the road in January, February and March of 2014. Unlike most bands, the Eagles will spend several days in one location. That location is Los Angeles, California. With the hit song "Hotel California" and the original band members Glenn Frey, Don Henley, Bernie Leadon, and Randy Meisner getting their start in Los Angeles, it comes as no surprise that they would start the tour with six dates in Los Angeles.
Some of the most popular songs performed by the Eagles are "Take it Easy," "Witchy Woman," "Lyin' Eyes," "Desparado," "Take It To The Limit," "Tequila Sunrise" and "Best of My Love." These are just the beginning of the many great hits that can and will be performed by the band when they travel the country. Make sure to get your tickets early as you do not want to miss out on the opportunity to see them play in your backyard.
Below are the Eagles tour dates and locations of the History of Eagles Tour that will begin on January 15th, 2014:
January 15, 17, 18, 22, 24, 25, 2014 - Los Angeles, The Forum
January 28, 2014 - Sacramento, Sleep Train Arena
January 29, 2014 - San Jose, SAP Center
February 15, 16, 2014 - Las Vegas, MGM Grand
February 19, 2014 - Dallas, American Airlines Center
February 21, 2014 - Houston, Toyota Center
February 23, 2014 - New Orleans, New Orleans Arena
February 24, 2014 - Atlanta, Phillips
February 28, 2014 Raleigh, N.C., PNC Arena
March 1, 2014 - Washington, D.C., Verizon Center
March 3, 2014 - Cincinnati, US Bank Arena
March 5, 2014 - Columbus, Ohio, Nationwide Arena
This is a once in a lifetime opportunity for many. The Eagles may not be hitting the road all that much in the near future so get your 2014 Eagles tickets and enjoy one of the best concert performances. For more information on concerts, music, sports and entertainment make sure to use the Ticket Monster blog. We update the website on a daily basis to keep you informed of the goings on in and around the industry.