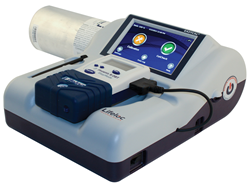 Compliance risks associated with incorrect manual EBT calibration and cal-checks is now be a thing of the past.
Wheat Ridge, Colorado (PRWEB) September 15, 2014
Lifeloc Technologies (OTC:LCTC), a leader in the manufacture of Evidential Breath Testers for DOT and non-DOT breath alcohol testing is pleased to announce acceptance by the Department of Transportation of the new EASYCAL automatic calibration station for inclusion on the Conforming Products List (CPL) for Evidential Breath Testers (EBTs).
Lifeloc Breath Testers (including the Phoenix 6.0IR, Phoenix6.0BT and EV30) were evaluated by the Volpe Transportation Systems Center for precision and accuracy when used with the optional EASYCAL calibration station and found to conform to DOT Model Specifications for EBTs. The EASYCAL will be included as an optional accessory for Lifeloc EBTs on the Conforming Products List (CPL) for Evidential Breath Alcohol Measurement Testing Devices.
The EASYCAL improves workplace alcohol testing program compliance and reduces costs by automating common sources of error such as manual instrument calibration, calibration checks and record keeping. EASYCAL also monitors calibration gas volume, cylinder expiry date and automatically checks and sets altitude correction factors on any Lifeloc EBT. Calibration time and gas usage is reduced substantially versus manual calibration.
Amy Evans, Lifeloc Workplace Business and Training Manager remarked, "It's a great leap forward for the industry. With DOT acceptance we can begin EASYCAL shipments to our Workplace customers who fell in love with the compliance and productivity benefits of the EASYCAL at past SAPAA and DATIA conferences."
Said Mark Lary, Lifeloc Director of Regulatory Affairs, "EASYCAL does not replace Lifeloc Calibration Technician Certification (C-LOCT). Calibration Technicians will receive training on the EASYCAL station along with their manual calibration training. The Quality Assurance Plan (QAP) for each instrument has been revised accordingly and approved by the DOT."
View the EASYCAL video and get additional product information from your Lifeloc Master Trainer, the Lifeloc Technologies website or by calling 303-431-9500.
About Lifeloc Technologies
Lifeloc Technologies (OTC:LCTC) is a trusted U.S. manufacturer of Evidential Breath Alcohol Testers and provider of drug testing products for Workplace, Law Enforcement, Corrections and International customers.
Forward Looking Statements
This press release includes forward-looking statements within the meaning of the Private Securities Litigation Reform Act of 1995, which involve substantial risks and uncertainties that may cause actual results to differ materially from those indicated by the forward-looking statements. All forward-looking statements in this press release including statements about our strategies, expectations about new and existing products, market demand, acceptance of new and existing products, technologies and opportunities, market size and growth, and return on investments in products and market, are based on information available to us on the date of this document, and we assume no obligation to update such forward-looking statements. Investors are strongly encouraged to review the section titled "Risk Factors" in our SEC filings, available free of charge at the SEC's website.