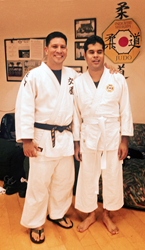 You've got to take the good with the bad, smile with the sad, love what you've got, and remember what you had. Always forgive, but never forget. Learn from mistakes, but never regret.---Unknown
San Francisco, CA (PRWEB) December 09, 2014
Edgar Cabachuela, now twenty-six years old, entered the world four months premature. Sufficient oxygen at this critical age and weight is imperative for survival, but it does have a draw back. Edgar was given too much oxygen and became blind.
Fortunately, Edgar has loving parents and a family who welcomed him to the world and were ready to support him along his journey. His parents wanted Edgar to grow up "normal" and therefore enrolled him in sighted schools that provided understanding, encouragement and support for a blind student among the sighted.
As reported by this author in a previous piece, the epidemic of bullying raised its head, permeating the school, playground and environs of this impressionable student. It was not easy for Edgar but, like so many other students exposed to bullying, he had friends who were going to be his defenders while building their own relationships with him.
At two years of age, Edgar started showing his musical talents by singing and mimicking singers such Whitney Houston and those he heard on the radio and television. His family was delighted to see such talent starting to show up at such an early age, but it wasn't just a passing interest.
Today, Edgar continues blossoming with all forms of music and musical instruments. He currently sings and plays in a Mexican-style band, playing base-guitar and the ukulele, entertaining others with his personality and musical talent.
After high school, Edgar attended the Southern California Conservatory of Music in Los Angeles. Here, Program Director and Head of the Braille Music Division Richard Taesch provided direction and encouragement for the further developing of his musical skills. Placido Domingo, famed as one of The Three Tenors, personally encouraged Edgar to dig deep down in his soul and bring out his musical talent.
Edgar wanted more and ultimately was accepted to the Colburn School of Performing Arts, the "Julliard School of the West" says Edgar. Colburn was created to provide gifted, college-aged instrumental musicians with training from a renowned faculty and access to professional-level performance opportunities. The Conservatory is a nationally accredited, degree-granting program and the nation's only music school to offer full scholarship support, including room, board and tuition to all students.
Working on his physical skills and after a short introduction to Tae Kwon Do, Edgar felt he wasn't gaining the skills and enhancements he expected. After contacting Blind Judo Foundation co-founder Ron C. Peck, Edgar was introduced to the President of the US Judo Association (USJA), Sensei Gary Goltz and Sensei Walter Dean. Sensei Goltz introduced Edgar to Industry Sheriffs Judo Club and its instructor, Sensei David Matute.
Edgar, with the help and support of other Judoka (Instructors and athletes), is starting his new journey of dedication and training on the road to reaching for the coveted Black Belt in the sport of Judo with hopes of becoming a US Paralympian. Be sure to check out Edgar's Facebook page and keep an eye out for this talented Judoka.
About us:
The Blind Judo Foundation is a nonprofit 501(c)(3) organization that introduces and trains blind and visually impaired children, young adults and returning blind and visually impaired military men and women in the sport of Judo. Supporting our blind athletes to train, travel and compete relies upon tax-exempt donations.
All members of the Blind Judo Foundation are volunteers. A select few of our elite athletes go on to represent the USA as members of the US Paralympic (not to be confused with Special Olympics) Judo Team. Check out the foundation and our Facebook page at http://www.facebook.com/BlindJudoFoundation or by contacting Ron C. Peck at roncpeck(at)blindjudofoundation(dot)org or 1-425-444-8256.