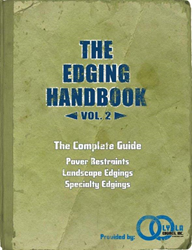 Villa Park, IL (PRWEB) November 14, 2014
Oly-Ola Edgings, Inc., the leading producer of premium grade 100% recycled commercial paver restraint and landscape edging products, published its latest edition of The Edging Handbook Volume 2: The Complete Guide to Paver Restraints, Landscape Edgings and Specialty Edgings. This handbook is a one-stop source for up-to-date information on paver restraints and landscape edging products. A free copy of The Edging Handbook Vol. 2 is available at http://www.olyola.com and includes tips on using the products, detailed step-by-step installation photos and product specifications, and "The Truth About 'Plastic' Edging" section.
The Edging Handbook Vol. 2 contains topics instrumental to helping landscape architects and contractors choose the best edging products to use in their project designs and installations. In addition, the guide lays out an easy-to-use "Understanding the Options" comparison chart that outlines various edging options and their benefits. This guide is the latest addition to Oly-Ola's extensive customer service offerings, and the company welcomes customer questions by phone or email.
For over 35 years, Oly-Ola, Edgings, Inc., headquartered in Villa Park, Illinois, USA, produces the most complete line of polyethylene/vinyl edging and paver restraints in the landscape industry. Oly-Ola promises the industry's strongest comprehensive guarantee: 100% Plus for 20 Years Includes All Freight and Labor. Oly-Ola's shipping policy is hassle-free. Orders are delivered by the industry's fastest shipping. Oly-Ola maintains a large inventory 12 months a year, so there are no back orders. Oly-Ola has an international distributor network and supports many national and state landscape organizations.
For more information, please call or write:
Oly-Ola Edgings, Inc. 124 E. St. Charles Road, Villa Park, IL 60181.
Phone: 800/334-4647. Fax: 630/833-0816
E-mail: edgings(at)olyola(dot)com Website: http://www.olyola.com