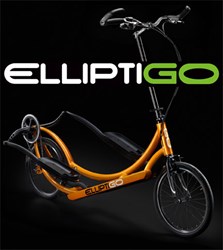 Because the ElliptiGO is great for all fitness levels and even those with injuries, this boot camp can accommodate nearly anyone.
San Diego, CA (PRWEB) January 31, 2014
ElliptiGO Inc., creators of the world's first elliptical cycle, today announced that Back 2 Normal Physical Therapy in St. Petersburg, Florida is offering its clients innovative boot camp-style classes featuring the ElliptiGO outdoor elliptical bicycle. Beginning this week, certified personal trainers will take participants through a mix of functional bodyweight training, core conditioning and a cardiovascular workout utilizing the ElliptiGO. The bi-weekly training sessions will incorporate the ElliptiGO both indoors on a stationary trainer and outside on the street.
Back 2 Normal owner and physical therapist, Lisa Chase, came up with the idea after using the ElliptiGO one-on-one with the athletes in her practice. "My goal is to offer each client the most innovative and cutting-edge therapies and services that I can and the ElliptiGO certainly fits the bill," stated Chase. "It's an intense aerobic workout, but it's so low-impact that nearly all of my rehabbing athletes, and really anyone with an active lifestyle, can use it to get a great workout while still in recovery."
By using an ElliptiGO for the cardio portion of the boot camp instead of traditional running, Chase is able to reach a broad range of clients. "Because the ElliptiGO is great for all fitness levels and even those with injuries, this boot camp can accommodate nearly anyone. We expect to see everyone from fit runners looking to up their game to injured athletes unable to train in their traditional manner to people just starting to get into shape greatly benefitting from these classes. We're able to reach more people while our participants get to try out some of the most innovative training equipment on the market."
"We're excited to see physical therapists like Lisa successfully incorporating the ElliptiGO into their practice in a variety of ways," stated Bryan Pate, Co-Founder of ElliptiGO. "Offering clients the ability to use the ElliptiGO in fitness classes as well as in their rehab activities continues to make her practice cutting-edge and gives her the opportunity to reach a broader audience. We're looking forward to supporting her and getting the ElliptiGO integrated into more rehabilitation clinics in similar ways in 2014."
For more information about ElliptiGO and its products, visit http://www.elliptigo.com or follow them on Twitter @elliptigo and Facebook at http://www.facebook.com/elliptigo.
About ElliptiGO
ElliptiGO, Inc. is the San Diego-based company that created the world's first outdoor elliptical bicycle. Combining the best of running, cycling and the elliptical trainer, the ElliptiGO® delivers a high-performance workout experience that closely mimics running outdoors while eliminating the impact. Elliptical biking is an effective way to build cardiovascular fitness without aggravating injuries and is great for everyone from the weekend warrior to the elite athlete. The ElliptiGO provides the most comfortable, fun and efficient way to get outside and be active. The full line of ElliptiGOs is available for purchase at select retailers nationwide and through the company's website: http://www.elliptigo.com.