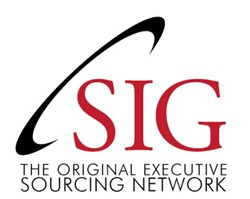 With three types of events in cities all over North America, we have something for everyone.
San Francisco, Ca. (PRWEB) December 20, 2013
SIG, the premier membership organization for sourcing, procurement and outsourcing executives, announces their 2014 line-up of industry events.
Based on a successful 2013, SIG plans to host at least eleven live networking events in 2014, including two Global Summits, five Symposiums and four Regional Roundtables. Summits are three-day events where SIG members and buy-side non-members gather for networking, keynote sessions and 50 breakout sessions and workshops. Symposiums are one-day mini-Summits for buy-side members and non-members and provider members who deliver thought leadership in the form of general sessions, breakout sessions and networking breaks. Regional Roundtables are six-hour intimate gatherings with a smaller group of buy-side attendees and limited provider speakers.
The full calendar includes events in the following cities:
February 6 – Minneapolis Symposium
March 12 – Hartford Regional Roundtable
April 1-3 – Nashville Summit
April 30 – Seattle Regional Roundtable
May 14 – Toronto Symposium
June 3 – Chicago Regional Roundtable
August 20 – Los Angeles Regional Roundtable
September 24 – Columbus Symposium
October 14-16 – Denver Summit
October 29 – New York Symposium
November 12 – Silicon Valley Symposium
In addition, SIG participates in member events, with the first in January where SIG CEO and President, Dawn Evans will moderate a panel at Immercio 2014, a nearshore event in Guadalajara, Mexico.
"We are delighted to officially announce our 2014 event calendar," said Evans. "With three types of events in cities all over North America, we have something for everyone. Our events bring together some of the most innovative and leading companies in the industry."
About SIG
SIG is a membership organization that provides thought leadership and networking opportunities to executives in sourcing, procurement and outsourcing from Fortune 500 and Global 1000 companies. It has served these professionals and opened dialogues with their counterparts in finance, HR, marketing and other business functions throughout its 22-year history. SIG is acknowledged by many as a world leader in providing "next" practices, innovation and networking opportunities through its: global and regional events, online webinars and teleconferences, member peer connection services, content-rich website and online Resource Center, which was developed by and for professionals in sourcing and outsourcing. The organization is unique in that it blends practitioners, service providers and advisory firms in a non-commercial environment.
###