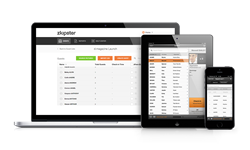 "With a simple update on any tablet, we can easily change or update a guest's table assignment. And the change is instantaneous, and happens across all tablets with the click of the refresh button. Guests are never the wiser."
(PRWEB) June 10, 2014
zkipster, the industry's fastest, most-reliable guest list app for non-ticketed event check-in at premieres, parties and galas, promotional events and conferences, today announced it would lead check-in services at The Foundation for AIDS Research's (amfAR) Inspiration Gala New York. zkipster will utilize Surface devices and Windows 8.1, created by Microsoft, the official technology partner of amfAR's Inspiration Galas.
"zkipster is proud to help amfAR and their guests focus on what truly matters: having great time at a great event – and raising funds for lifesaving AIDS research programs in the process," said David Becker, co-founder of zkipster. "zkipster's easy-to-use event check-in app will make sure that the people stepping up to fund AIDS research receive the VIP treatment they deserve."
The leaders of zkipster hate to wait in lines and know guests do too. zkipster provides an easy-to-use event check-in app – eliminating paper lists and helping guests around the world, from the Oscars and Fashion Week to local store openings and community gatherings, move seamlessly into their event.
"zkipster helps every event professional create a reliable, organized, and efficient list that makes check-in easy," said AnnMari Shannahan, Vice President of Information for amfAR. "With a simple update on any tablet, we can easily change or update a guest's table assignment. And the change is instantaneous, and happens across all tablets with the click of the refresh button. Guests are never the wiser."
"The implementation and design of the zkipster app really takes advantage of the Windows platform's unique features including cloud integration, allowing for seamless event check-in across all users especially when combined with the power of Surface devices, providing the perfect tools for an event such as the amfAR Inspiration Gala," said Todd Brix, general manager, Windows Apps and Store, Microsoft Corp. "amfAR is leading the effort to fund lifesaving AIDS research and we are proud to work with zkipster to help them reach that goal."
The Inspiration Gala will deliver the prestigious Award of Inspiration to the steadfast AIDS activist HRH Crown Princess Mette-Marit of Norway, and two companies that have made a profound impact on the state of AIDS research: HBO and Calvin Klein Collection. Josh Duhamel will host the event with presentations from Sarah Jessica Parker and a performance by New Order. For more information, visit http://www.amfAR.org.
The Inspiration Series was launched in 2010 to celebrate men's fashion and style while raising funds for amfAR's lifesaving AIDS research programs. Each year features a different design "Inspiration" theme. Since its inception, Inspiration Galas have been held in New York, Los Angeles, Paris, São Paulo, Rio de Janeiro, Toronto, and Miami. To date, the Inspiration Series has raised more than $13 million to benefit amfAR.
###
About zkipster
zkipster is the industry's fastest, most-reliable guest list app for non-ticketed event check-in at premieres, galas, promotional events and conferences. It's the first check-in app compatible for iOS, Android, Windows 8 platforms - offering secure real-time guest list management for public relations and event professionals. For more information, please zkipster's website
About amfAR
amfAR, The Foundation for AIDS Research is one of the world's leading nonprofit organizations dedicated to the support of AIDS research, HIV prevention, treatment education, and the advocacy of sound AIDS-related public policy. Since 1985, amfAR has invested more than $388 million in its programs and has awarded grants to more than 3,300 research teams worldwide.