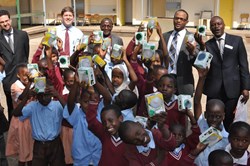 In partnership with Denver Sister Cities International, Nokero has been a part of the collaborative effort of localizing the global and globalizing the local. - Albus Brooks
Denver, CO (PRWEB) February 04, 2014
On January 20, 2014, Denver Sister Cities International (DSCI) and Nokero International, Ltd. celebrated the inauguration of a sustainable water system and the use of solar light bulbs in the Madaraka Primary School in Kenya. This program was the recipient of Sister Cities International's 2014 Award for the "Most Innovative" category.
Denver City Councilman Albus Brooks says, "In partnership with Denver Sister Cities International, Nokero has been a part of the collaborative effort of localizing the global and globalizing the local. Leveraging the connections between Nairobi and Denver has allowed innovative companies like Nokero to expand their global reach." Brooks joined representatives from DSCI, Denver Water, and Nokero last week in Kibera, Nairobi, Kenya to celebrate the Madaraka Primary School.
In association with the Bill & Melinda Gates Foundation, Sister Cities International designed a tri-lateral relationship between Denver (USA), Nairobi (Kenya), and Kunming (China) that is known as the Sino-African Initiative. Together, the three cities rebuilt a Kenyan school and worked with private businesses, including Nokero and Fairmont Hotels, to sponsor sustainability programs that will improve student health and education.
The three sister cities have committed to a cross-cultural relationship cultivated by a mutual interest in fostering the future of their youth through education and sustainability. The relationship is strengthened by the recent launch of a Nairobi branch of Denver-based Nokero International, Ltd.
After months of nurturing a bond between the two cities, Nokero officially launched Nokero Kenya. Jon Rodrigues, Nokero Global Account Manager, says, "We've just cleared customs with another container of products, and in the coming months these bulbs will travel the 'last mile' into schools, clinics, agriculture co-ops and households." In line with DSCI's Sino-African Initiative, Nokero now ships solar products around the world from the United States, China, and Kenya.
Brian Powers, DSCI Project Manager for the Sino-African Initiative, who recently visited the Madaraka Primary School in Kenya, said, "We presented the school with a case of Nokero bulbs… they were very well received." The solar light bulbs will be given to students to extend study time by an average of 30 minutes per night and eliminate the need for kerosene and other dangerous fuels, while serving as a symbol of the international relationship formed by DSCI and Nokero.
About Nokero
Nokero (short for "No Kerosene") designs, manufactures and collectively distributes safe, affordable, and environmentally-friendly solar based technologies. Our solar lights and solar battery chargers are high-quality and low-cost, eliminating the need for harmful and polluting fuels around the world.
About Denver Sister Cities International
Denver Sister Cities International is a non-profit organization that brings together local citizens with grassroots efforts. Featuring 10 Sister Cities around the world, DSCI utilizes diverse global ambassadors interwoven with common thoughts, ideas and the notion of active participation.