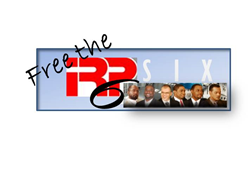 Justice will not be served until those who are unaffected are as outraged as those who are - Benjamin Franklin
Denver, Colorado (PRWEB) September 30, 2014
Advocacy group, A Just Cause, will release research findings that illustrates that arguments made by executives of IRP Solutions Corporation regarding development of software to help law enforcement share information, align with the federal government's activity to find a solution to track terrorist organizations and collaborate with other agencies in the war on terror.
"A Just Cause has conducted this research because our organization feels that it is critical in proving the innocence of the IRP Solutions executives who, based on our findings, have been wrongfully incarcerated for over two years", says Sam Thurman, A Just Cause. "The IRP Solutions executives are known as the IRP6", adds Thurman.
Court records from the IRP6 case show that IRP Solutions Corporation developed the Case Investigative Life Cycle (CILC) software for federal, state, and local law enforcement. Court records further show that during the trial of the IRP executives, software forensics expert Don Vilfer of Califorensics analyzed the CILC software. According to the analysis conducted by Califorensics, "The software (CILC) contained many notable features, making it a functional product for the intended consumer," (Califorensics Analysis, Case 1:09-cr-00266-CMA Document 298-2, 10/8/10 USDC Colorado).
"It is very disturbing to hear news reports of new terrorist threats against the Untied States Homeland", exclaims Thurman. "Just last week there were reports of possible threats against subway systems in New York (CBS News, September 25, 2014 - http://www.cbsnews.com/news/isis-plot-to-attack-new-york-paris-subways-uncovered-iraq-says/). I guess even more disturbing is an NBC News report that showed a Department of Homeland Security bulletin with the statement, '…(it is not) clear who, or what agencies in the United States Government were alerted' (NBC News, September 25, 2014 - http://www.nbcnews.com/storyline/isis-terror/iraqi-report-isis-subway-threat-knocked-down-n211496). The DHS statement hints that we are still a ways away from knowing which agencies have key intelligence information, and it would indicate that we are still not sharing critical information", Thurman alludes.
"We believed that DHS was doing an excellent job several years ago when it was seeking companies to assist with the Federal Investigative Case Management System (FICMS)", says Gary Walker, IRP Solutions, CEO and Chief Technology Officer (IRP6). "After we met with DHS and agencies that were part of DOJ, we are convinced that the CILC software addressed issues that were raised by DHS during the early phase of FICMS and the Consolidated Enforcement Environment Initiative (CEE)", continued Walker. "When we were invited to attend the agency's Industry Day in the fall of 2004 we knew that we had a great opportunity", Walker added.
According to an article in Government Computer News (GCN.com, March 3, 2005), "In September, the FICMS team held an industry day and released a request for information. The departments closed the event to the press and the public, citing security concerns. But documents from the meeting show that DHS, with more than 40 case management systems to integrate, faces problems on a scale similar to Justice, which runs about 70 case management and related systems." The article went on to say, "According to a DHS presentation: (1) Agents can't access details of investigations in paper case files around the country. (2) DHS offices and external agencies exchange case and intelligence information via copies of paper files. (3) Officers need up to an hour to search for a case file in 10 to 15 government and private databases. (4) Lack of integration forces duplicate entry of case and incident data. (5) Data entry can take up to five hours per case. (6) After the Sept. 11, 2001, terrorist attacks, a search of nine databases to check for 900 names took weeks. The goal of the FICMS project is to create a single point of access to all law enforcement information and to allow for easy sharing of case data among federal agencies." (http://gcn.com/Articles/2005/03/03/Should-the-FBI-wait-for-governmentwide-case-management-app.aspx)
"CILC modules, standalone or integrated, are seamlessly adaptable and configurable to the investigative and intelligence workflows and processes of any agency, whether that is Immigration and Customs Enforcement (ICE), FBI, Secret Service, Border Patrol, U.S. Marshals or a multi-agency conglomerate like DHS or DOJ", says Gary Walker, IRP Solutions, CEO and Chief Technology Officer (IRP6).
According to the 2005 GCN article, DHS program manager Steven Cooper stated, "'It is hoped that there are a set of [commercial] components that would address the architectural needs. We do not believe that one package would address all of the needs, and we would need a systems integrator." (http://gcn.com/Articles/2005/03/03/Should-the-FBI-wait-for-governmentwide-case-management-app.aspx)
"The software that we developed (CILC) addresses the shortcomings identified in the 2005 FBI Inspector General's audit regarding Trilogy (http://www.justice.gov/oig/reports/FBI/a0507/findings.htm) and we believe that CILC aligned with what DHS was looking for with FICMS and CEE", says David Banks, IRP Solutions Chief Operating Officer (IRP6). "The fact that the recent Bipartisan Policy Center tenth anniversary review of the 9/11 Commission Report says that we are no safer now than we were on Sept 10th 2001 is a reason to be concerned (http://bipartisanpolicy.org/events/2014/07/911-commission-report-ten-years-later). And the fact that we are still having conversations about how we track terrorist is another cause for concern", adds Banks.
"It was the goal of CEE and FICMS to function as an Information Sharing Environment (ISE) consistent with 6 U.S.C. 485 (b), which requires the President of the United States to 'create an information sharing environment for the sharing of terrorism information...'", says Banks (http://www.law.cornell.edu/uscode/text/6/485). "CILC currently supports thirteen of fifteen attributes of an ISE required under 6 U.S.C. 485(b)(2) and can be extended to accommodate the other two. CILC 1) facilitates the availability of information in a form and manner that facilitates its use in analysis, investigations and operations, 2) connects existing systems where appropriate and allows users to share information among agencies, between levels of government, 3) permits investigators and analysts to collaborate both independently or in a group, 4) employs an information access management approach that controls access to data rather than just systems and networks, 5) incorporates strong mechanisms to enhance accountability and facilitate oversight, including audits, authentication and access controls, and 6) integrates technologies through Internet-based services to enable connectivity among required users at Federal, Local and State levels", concludes Banks.
Court records from the IRP6 case show that discovery includes DHS investigative process scenarios with accompanying diagrams (D. Ct. No. 1:09-CR-00266-CMA). "It raises questions how our case made it to trial when discovery shows that we were engaged with federal agencies in 'real' initiatives. The records show that IRP Solutions provided a quote to deliver the Confidential Informant Module of the CILC software to the government… a quote that exceeded $100 million (for the Consolidated Enforcement Environment Initiative)", argues Banks. "Additionally, court records show that retired federal agents who worked with us as contractors provided sample investigative cases for drug, terrorism and financial crimes", Banks continued. "Former agents Epke (FBI), Fuselier (FBI) and Hillberry (ICE) worked along side Gary and I as we developed the CILC software", added Banks. (D. Ct. No. 1:09-CR-00266-CMA).
In an affidavit Gary Hillberry, a retired U.S. Customs Special Agent In Charge wrote, "From January 2004 through October 2004, I attended a number of meetings at the IRP Office...". Hillberry stated there were delays in payment for services but, "...the three of us (Hillberry and other agents) decided that (IRP) truly had a viable... product and appeared to be moving forward to acquire state and federal law enforcement contracts... so we decided to continue to assist in the effort". Court records show that Agent Smith requested assistance from Mr. Hillberry on January 11, 2005). Hillberry's letter is dated January 18, 2005. The raid on occurred on February 9, 2005. (D. Ct. No. 1:09-CR-00266-CMA).
"CILC offers over 40 features with other modules that include Confidential Informant Management, Operations Planning, Crime Scene Management, Tips management and more", says Walker. "Information sharing, collaboration and security capabilities offered by CILC are unprecedented", Walker adds. "The CILC Persons Management module is built for the mass collection and organization of intelligence information related to terror suspects as well as traditional suspects", says Walker.
"CILC was tailor-made for the FICMS and CEE initiatives and would have minimized or solved many of the information sharing and collaboration impediments and current IT shortfalls faced by law enforcement today", says Banks.
"Me and the other IRP Solutions executives look forward to the day that we can help make our country safer", says Walker. "I know that CILC can help with the issues we consistently hear about. Our federal agencies need a capability that works and I believe I can help", concludes Walker.
For more information about the story of the IRP6 or for copies of the legal filings go to http://www.freetheirp6.org.
Related press releases: http://www.a-justcause.com/#!press-release/c21pq
Petition for release of the missing of transcript: http://www.change.org/petitions/attorney-general-eric-holder-investigate-federal-case-of-irp6-200-pages-of-court-transcript-missing