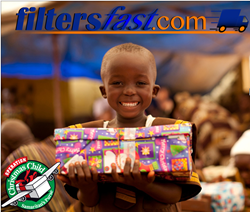 FiltersFast.com is excited to get involved with the Charlotte, NC based Samaritan's Purse
Charlotte, NC (PRWEB) December 01, 2014
FiltersFast.com is excited to get involved with the Charlotte, NC based Samaritan's Purse annual project Operation Christmas Child. This will be the first year FiltersFast.com has had this opportunity to participate by donating 50 filled gift-boxes. As a second part to this initiative, FiltersFast.com will send a team of employees to the local Operation Christmas Child processing center to volunteer their time. FiltersFast.com workers will join forces with other area volunteers to aid in shoebox assembly, inspection and packing in preparation for overseas shipment and eventual delivery.
Operation Christmas Child hopes to collect 10 million shoebox gifts this season, which will be delivered by Samaritan's Purse volunteers to children all over the world living in orphanages, war stricken countries and disaster zones. Visit Operation Christmas Child to learn more about this organization and project.
Since 2004, Filtersfast.com remains committed as the authoritative resource for consumers regarding the importance of changing residential and commercial water filters and air filters on a regular basis. The company strives to add to their customer's overall quality of life by offering first-rate products at the best competitive prices. By saving customers time and money, they simplify a sometimes mundane, but very necessary task. For more information regarding their large assortment of water filters, air filters, refrigerator filters or pool and spa filters, visit http://www.filtersfast.com or call their customer service department at 1-866-438-3458.