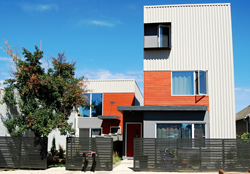 Denver, Colorado (PRWEB) October 22, 2014
Premier national home tour organizer, Modern Home Tours, LLC., is hosting the final tour of the 2014 Fall season this weekend in Colorado, as the fourth annual Denver Modern Home Tour completes a tour run that included visits to Texas, California, New Mexico and Canada.
On Saturday October 25th, tourgoers will have the rare opportunity to explore four private, modern residences in the Denver area. During this year's smaller, more intimate tour, attendees will learn from homeowners on what it's like to live in a modern home and find out where the architects got their inspiration - directly from the source. The tour is self-guided and self-driven, allowing guests to explore these modern treasures at their own pace.
Habitat for Humanity Metro Denver has been selected as the benefiting non-profit partner for the 2014 Denver Modern Home Tour. They will help staff the event in exchange for a donation and opportunity to use the tour as a fundraising vehicle. 5280 Home has signed on as the tour's media partner.
The roster of homes features on the 2014 Denver Modern Home Tour are:

A home in Highland, designed by Mike Moore of Tres Birds Workshop with comfort and energy efficiency in mind, that produces just as much energy as it consumes. The home features a green roofing system to help maintain even temperature control, and a structural composition of reclaimed steel and recovered bricks from demolished Denver buildings.
The FRAMEWORK Town Homes, located just blocks from Sloan Lake, are an ultra-modern, LEED homes, designed by Brad Tomecek of Tomecek Studio Architecture (formerly of Studio H:T) and built by Treehouse Brokerage & Development. The homes feature bright architectural design with lots of skylights and high ceilings, plus a private central courtyard with an urban garden.
A home located right near the University of Denver, designed by architect Michael Knorr, that features an open plan organized around a great room with dramatic fireplace wall. The home also features a bright, open, gourmet kitchen that makes the home great for entertaining but planned for privacy.
A fourth home located in the River North neighborhood, designed by Matt Davis and built by Peak 1 Enterprises, that showcases a vertical form combining ribbed metal and stained wood siding that blends well with the industrial architecture of the surrounding buildings.
Participating homes in the 2014 Denver Modern Home Tour will open their doors for viewing from 11AM – 4PM on Saturday, October 25th, in the Denver, Colorado area. All are invited to attend. Kids under 12 may accompany their parents free of charge. Tickets for this tour have been discounted to just $20 in advance online; $25 on the day of the tour. For more details on the Denver Modern Home Tour and how to buy tickets, visit http://modernhometours.com/event/denver.
About Modern Home Tours, LLC: Based in Austin, Texas, Modern Home Tours, LLC was founded by partners Matt Swinney & James Leasure in 2010 to introduce modern architecture and living to people across the nation. Through fun and informative tours in dozens of cities across the USA and Canada, the group invites people into some of the most exciting examples of modern architecture and design in the nation. With carefully selected architects, neighborhoods and architecture, the Modern Home Tours are unlike anything you've ever seen. Not only will you learn about the cutting edge of home design while on our tours, but you might even get an idea or two for your next home project!