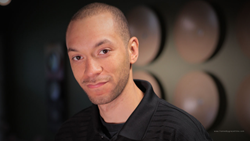 Intentions are to uplift the city by capturing the commitment made by volunteers to rid eyesores, encourage youth and lessen violent crimes.
Detroit, Michigan (PRWEB) March 12, 2014
Framed by Grace Films, producers of A Love that Hurts, show their versatility shifting their subject matter from marriage to community. Love is a word used across many boundaries. From a film about love in a marriage on the brink of failure, these local filmmakers now showcase that love for community can unite organizations to bring about change in a city in dire need of transformation.
The documentary Cody High: A Life Remodeled Project is scheduled for a fall release with a red carpet premiere, and this Detroit-bred trio Walter V. Marshall, Timashion Jones and Darryl Bradford highlight an undertaking intended to preserve the potential of Detroit and its youth. Intentions are to uplift the city by capturing the commitment made by volunteers to rid eyesores, encourage youth and lessen violent crimes.
Life Remodeled is behind project Cody High, and filmmakers are chronicling the efforts to uplift Detroit one neighborhood at a time. Located on the west side of the city, blight, crime and fear plague the neighborhood of Detroit's Cody High School. Structural and program renovations will take place at the school and the surrounding community. By demolishing vacant buildings, pathways will be made safer. Once suffering from frightening statistics with a below 40% graduation rate, the rate more than doubled in four years at Cody. Positive achievements such as this give hope that Detroit shall gain momentum in the fight against its downtrodden reputation. There is hope that each of the 3 schools (Academy of Public Leadership, Medicine and Community Health Academy, Detroit Institute of Technology College Prep) within Cody will thrive from the facelift which consists of state of the art remodeling with classroom upgrades and additions including a new football/soccer field, library, medical lab, computer lab and design room.
A desire to highlight positive transformation led to the pro bono work of these native Detroiters because they wholeheartedly believe in the city's revitalization. Aside from capturing the improvement process, the documentary will feature stories of those directly affected by efforts. Public officials, students, neighbors and volunteers chime in to share their appreciation of how Life Remodeled is restoring the confidence many have in the Detroit Public Schools system and local government. Taking the city back means tackling the issues of crime, failing schools and extreme blight. Plaguing problems have prompted this urban renewal venture, and the hope is that all proposed tasks will be accomplished. More sponsors lending a hand will ensure the success and completion of Cody High.
Personal accounts of those directly connected to the Cody Rouge experience and volunteers with a helping hand are needed. If you live in the Cody Rouge community, are Cody alumni or seeking sponsorship opportunities, contact Movie(at)liferemodeled(dot)com for more information on casting, project assistance and red carpet ticket sales. Please identify your area of interest in the subject line. Getting involved with Life Remodeled is as simple as visiting http://www.liferemodeled.com.