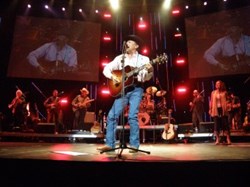 (PRWEB) December 22, 2013
Country music legend George Strait along with opening acts Merle Haggard & Lee Ann Womack team up for what promises to be an award-winning performance, April 4th, 2014 at Denver, Colorado's Pepsi Center.
The 2014 "The Cowboy Rides Away" tour, named after the best-selling single, "The Cowboy Rides Away", is the second leg of George Strait's final two-year tour, which gained incredible popularity amongst fans the moment concert dates and special guests were announced. Country music fans have been thrilled to see not only George Strait, but a host of co-performers including Martina McBride on a few legs of the tour. In many cases, tickets for this tour have sold old within hours of their announcement.
Conveniently located in downtown Denver by Jefferson Park, Pepsi Center is a multi-purpose arena that is the home of the NBA's Denver Nuggets, as well as the Colorado Avalanche and Colorado Mammoth. This venue features an incredible list of amenities, from priority seating with VIP access, great parking and a host of dining options. For more information on this event at the Pepsi Center, please check out the details below:
Table of Contents
1. "The Cowboy Rides Away"
2. Merle Haggard | Lee Ann Womack
3. Pepsi Center Arena
4. Parking & Directions
1. "The Cowboy Rides Away" is the final installment by country music Patriarch, George Strait. George Strait's career has been marked by a host of accomplishments, including averaging at least one #1 hit per year, totaling 59 #1 hits in his career. Selling nearly 65 million records, the newly turned 60 year-old has produced one album per year, sometimes two, in his journey to the top of country music's Billboard Charts.
2. Merle Haggard went from inmate to country music legend, producing 38 #1 hits, including 'The Fugitive', 'If We Make it Through' and 'The Fightin' Side of Me'. This multi-talented singer is also a guitarist, fiddler, song writer and instrumentalist and is one of the most covered musicians in all of country music.
Lee Ann Womack is an up and coming country music superstar who embodies an old-fashion type of style, with tales of bad relationships and love lost. The Grammy Award recipient has released six studio albums and has received nearly a dozen Academy of Country Music Awards and Country Music Association Awards.
3. Pepsi Center is a five-level arena with a concert seating capacity of 20,000 and was entirely constructed using private funds. Easy accessibility, comfortable seats and an excellent seating map configuration makes this arena a fan-favorite, many of whom have boasted that there is not a bad seat in the entire venue. Sporting a variety of uniquely themed restaurants, Pepsi Center offers its patrons a host of dining options, including the Wyoming cattle ranch themed Blue Sky Grill and The Ridgeline, an elegant environment featuring a large patio overlooking downtown Denver on one side and breath-taking mountain views on the other. For premium ticket holders, the Land Rover Denver Club is an exclusive environment within the arena offering a full menu of culinary creations, and is truly a unique dinner club with stunning views of the Rocky Mountains.
4. Parking & Directions: Toyota owners will feel right at home at the Pepsi Center, as there's a distinctive lot for every Toyota model (public parking also available). Prius owners will be especially delighted with the parking situation as they receive discounted parking in the Prius lot!
When the nearly 5,000 spaces are filled, there's an overflow lot containing 2,000 spaces conveniently located on the adjacent University of Colorado campus.
Pepsi Center Address: 1000 Chopper Circle | Denver, Colorado | 80204
Directions:
If you are traveling south on I-25, take exit 212B toward downtown. Turn left onto Speer Boulevard. At the second stop light, turn right onto Chopper Circle.
If you are traveling north on I-25, take exit 210B for Auraria Parkway. Merge onto Auraria Parkway. Turn left onto 11th Street to enter the grounds of Pepsi Center.
From downtown Denver, take Speer Boulevard to Auraria Parkway. Go west on Auraria Parkway and turn right on 11th Street to enter the grounds of Pepsi Center.
Great seating, exquisite dining and fantastic views are yours when you visit Pepsi Center to see George Strait's final tour. To reserve your "The Cowboy Rides Away" tour concert, visit Ticket Monster. There are never any surcharges or fees, plus we provide our customers with the easiest access to experience every event that Pepsi Center offers, as well as every other major concert venue in the U.S.
For more information, call 866-217-4777, or visit TicketMonster.com.