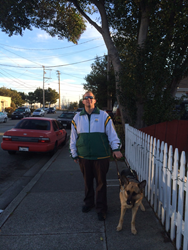 A creative man is motivated by the desire to achieve, not by the desire to beat others. Ayn Rand
San Francisco, CA (PRWEB) February 26, 2014
At six months of age, Michael Larsen's doctor told his parents that he was visually impaired and it took another twenty-five years to get a definitive diagnosis of Leber's Congenital Amaurosis disease. Now thirty-four years of age and member of the Blind Judo Foundation, Michael is on his way of using the sport of Judo for building his life's path.
It's not been easy coming from being bullied and harassed to getting bloody noses and being ridiculed by fellow students along the way to make his way in life. Because of being bullied, Michael would eat lunches in the teacher's lounge to avoid the constant harassment of fellow students. He constantly wore dark glasses to shield the penetrating light which didn't help matters either.
Other children his age would corner Michael in the boys locker room with continued bullying thinking they were out of sight of the schools Principal and Teachers. Adding to the distress of being blind, Michael realized he was having problems hearing. Constant visits to doctors revealed scars on his ear drums. Besides being blind, Michael now has to wear hearing-aids which adds to being constantly bullied.
You can almost imagine the verbal, physical and psychological abuse Michael was under. But if you know Michael's determination, dedications and drive, you will also know the saying "if it's to be it's up to me," says Michael. Michael knew what he had to do to turn what some might consider a disadvantage into an advantage.
Having endured enough abuse by others with the latest bout of spitting on him, it was time to take charge of his situation as his parents felt the whole problem was Michael's fault. Of course this wasn't really the case.
In 1987 at the age of 8 Michael signed up for Jujitsu to develop his self-worth and to learn how-to cope with the negative effects of bullying. Judo, an offshoot of Jujitsu was started at the age of 12 and Michael has been a consummate student of the sport training under the legendary Judo Coach Willy Cahill.
Competition, camps and tournaments have always been a spark that has kept Michael dedicated in becoming a master in Judo. Hence, in February - March 2014 he will head to Germany for a Training Camp and International German Judo Championship Tournament especially for the Blind and Visually Impaired.
The Blind Judo Foundation is a nonprofit 501(c) (3) organization whose mission is to empower the blind and visually impaired using the tools and tenets of Judo. These include but not limited to confidence building, character development, how-to make commitments and follow through, humility, respect and responsibility. All members of the Foundation are volunteers. Funding of blind and visually impaired athletes to train, travel locally, nationally and internationally are through tax exempt donations, the financial life-line. Donations are tax exempt. To learn more about the Foundation, check out blindjudofoundation.org and at Facebook or contact Ron C. Peck at roncpeck(at)blindjudofoundation(dot)org or 1-425-444-8256.