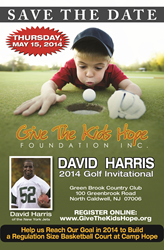 Several confirmed NY JETS and other celebrity guests will be playing in the David Harris Golf Invitational to benefit underprivileged children in New Jersey
Little Falls, NJ (PRWEB) May 14, 2014
WHO: David Harris Golf Invitational to benefit Give the Kids Hope Foundation.
WHAT: Interview, broadcast and photography opportunities will be available.
WHERE: Green Brook Country Club 100 Greenbrook Road, North Caldwell, New Jersey 07006
WHEN: Thursday, May 15, 2014 * BEST opportunity for player interviews will be at 11 a.m. prior to the shotgun start OR during the cocktail hour at 5:30 p.m. – to be added to the press list contact: Maria Paladino-Fitz 973-931-4111 maria(at)mymediaconsultants(dot)com.
SIGNIFICANCE: Several confirmed NY JETS and other celebrity guests will be playing in the David Harris Golf Invitational and attending the evening awards and dinner/auction ceremony in support of Give the Kids Hope Foundation to benefit underprivileged children in North Jersey. David Harris, D'Brickashaw Ferguson, Demario Davis, Calvin pace, Garrett McIntyre, Nick Bellore and Bruce Harper (retired) will be available, as well as other NFL retired players including Ottis (OJ) Anderson, Don Herrmann, Scott Brunner, and Lee Saltz.
Many generous donations of autographed sports memorabilia for the evening auction will be on display including footballs, jerseys, cleats and helmets to help raise funds for this worthy cause.
Among the contests and prizes planned for the 2014 David Harris Invitational are a $10,000 (60' putt) and hole in one prizes that include: a 2014 Chevrolet Impala and a 2014 Chevrolet Camaro SS, sponsored by Schumacher Chevrolet in Little Falls, NJ and Gearhart Chevrolet in Denville, NJ.
Many opportunities are available to support the David Harris Golf Invitational and its cause through participation as a player, sponsor, by donating monetarily or providing an auction raffle prize. Participating corporate sponsors to date are: Schumacher Chevrolet, Gearhart Chevrolet, Tilton Automotive Group, Investors Bank Lakeland Bank, Comcast Spotlight, Verizon FIOS , Vicinity Media Group and Cablevision. For more information about playing or sponsoring the David Harris Invitational or to purchase tickets for the evening dinner and awards ceremony, please contact: Allison Lastfogel at Schumacher Chevrolet 973-256-1065 or visit: http://www.GiveTheKidsHope.org. Find Us on Facebook
####
About Give the Kids Hope Foundation, Inc.,
Give the Kids Hope Foundation, Inc., is a 501(c)3 charitable organization that directly benefits underprivileged children in New Jersey. The foundation has set a goal in 2014 to build a new regulation size basketball court at Camp Hope in West Milford, NJ where over 2,800 underprivileged children from North Jersey attend at no cost every summer.
The foundation was started in 2009 by Stephen Tilton Jr. and Judith Schumacher-Tilton of Tilton Automotive Group, to provide less fortunate children the opportunity for recreational and educational activities that they might not otherwise have, including a chance to go to summer camp and sing by a campfire, take a nature walk or enjoy an educational trip to the zoo.
David Harris has become the face of Give the Kids Hope Foundation, inspiring many less fortunate youngsters with his enthusiastic participation and recalling that his own upbringing led him to join the group, saying with a smile "we grew up with so much love, we never knew we were poor." This year's benefit Golf Invitational which is named in his honor will support needed funds to build a new regulation size basketball court at Camp Hope in West Milford, NJ.
For more information contact:
Give the Kids Hope Foundation, Inc.
Stephen Tilton Jr., President
8 Main Street
Little Falls, NJ 07424
info(at)givethekidshope.org
973-256-1065