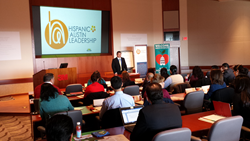 This unique and robust curriculum provides business leaders and professionals the opportunities to develop business acumen, civic awareness, leadership skills, and a network of colleagues for life.
Austin, TX (PRWEB) May 05, 2014
The Greater Austin Hispanic Chamber of Commerce (GAHCC) will host its Hispanic Austin Leadership (HAL) Symposium and Graduation on Thursday, May 8, 2014, at the Blanton Museum of Art at the University of Texas at Austin. The HAL Symposium and Graduation, presented by Title Sponsor 3M, will showcase five Community Impact Projects created by the 25-member 2014 HAL cohort. Other initiative sponsors include Univision Radio Austin, Don Julio, Smirnoff, and Diageo Wines. This celebration capstones a unique nine-month curriculum, which featured coverage on the evolution of Central Texas, civic engagement, education, environmental sustainability, financial wisdom, healthcare, and arts/culture.
"We are thrilled to feature our 2014 Hispanic Austin Leadership cohort," stated Mark L. Madrid, President and CEO. "This unique and robust curriculum provides business leaders and professionals the opportunities to develop business acumen, civic awareness, leadership skills, and a network of colleagues for life."
The 25 Graduates of the 2014 Hispanic Austin Leadership class are: Cynthia Acosta, Employees Retirement System of Texas; Manuel Arellano, Seton Healthcare Family; Celso Baez, Capital Metro Transportation Authority; Aleste Ballesteros, Univision Radio; Juliet Castañeda, Texas CASA; Sandra Castillo, Austin Energy; Maria Cerda Dwyer, Dell; Mariano Conde de Frankenberg, Mariano Law; Michael De La Fuente, Wells Fargo; Ann Eaton, State of Texas-Disability Determination Services; Crystal Flores, New York Life; Robert Garcia, St. David's North Austin Medical Center; Cynthia Hernandez, Caritas of Austin; Irma Martinez, FAST Real Estate Solutions, Inc.; Brenda Mellado, Wells Fargo; Dorelia Miller, BuildASign.com; Lorraine Montes, U.S. Trust, Bank of America Private Wealth Management; Reiberto Montiel, Applied Materials; Clara Nerri-Mejia, Applied Materials; Sergio Pellicano, Goodwill Staffing Group; Crystal Peña, Communities in Schools; Stephen Potter, Seton Healthcare Family; Elsa Rivera, Agilent Technologies; Gabriel Rodriguez, Time Warner Cable Business Class; and Jennifer Vasquez, HHSC Medicaid/CHIP Division-Vendor Drug Program.
"The Leaders of HAL 2014 demonstrated passion while developing five outstanding community impact projects. They have my fondest respect and admiration for the perseverance they experienced throughout this intense and fast-paced program," remarked Rosemary H. Banda, Administrative Coordinator for 3Mgives, who serves as the 2014 Hispanic Austin Leadership Chair.
The GAHCC Hispanic Austin Leadership initiative follows a sold-out Capital of Texas Awards, which recognized high-performing entrepreneurs, small businesses, and organizations. IBC Bank was the Event Underwriter. The following eight award winners were announced: Latino Magazine (Media), sponsored by Univision Communications; Mamasitas Specialty Foods LLC. (Rising Star), sponsored by General Motors, VIP Sponsor; People's Community Clinic (Healthcare), sponsored by Montemayor Hill & Co., P.C.; Estilo (Retail), sponsored by IBC Bank, Tiff's Treats (Food and Beverage), sponsored by 7-Eleven; Sunshine Learning Center (Services), sponsored by Cap Metro; Worker's Defense Project (Nonprofit), sponsored by CapitalWirePR; and Webcore Technologies (Technology), sponsored by American Bank. Also, Nation Waste, Inc., was featured as a Capital of Texas Awards sponsor.
In addition to the awards ceremony, the 2014 GAHCC Board was introduced to the Central Texas community. Thomas Miranda of Sparkovation IT, LLC is the 2014 GAHCC Chair; Luis Patiño of Univision Communications is Chair-Elect; and Geronimo Rodriguez of the Seton Healthcare Family is Immediate-Past Chair. The remainder of the Executive Committee includes Mark Masten, Wells Fargo; Val Velasquez, Casa Blanca Realty; Frank Garza, Vamos Marketing; and Eduardo G. Alexander, X9 Ventures LLC./Asociación de Empresarios Mexicanos. The 2014 Board Members include Michelle Alcala, Graves Dougherty Hearon & Moody; Ray Andow, Walmart; Rosemary H. Banda, 3M; Guadalupe (Lupe) Barragan, Casa Chapala Mexican Restaurant; Rodney Bustamante, Austin Absolute Realty; Janine Chapa, State Farm Insurance; Rudy Garza, GarzaBury, LLC; Vanessa Gonzalez-Bickerstaff, Heath, Delgado Acosta LLP.; Celia Israel, Mission Resources; Marla Martinez, The University of Texas at Austin; Ray Martinez, Western Governor's University-Texas; Joe R. Pelayo, Applied Materials; Dr. Richard Rhodes, Austin Community College District; David Rodriguez, SagePoint Financial, Inc.; John D. Holmes (Ex-Officio), Freescale Semiconductor; and Alex Valdes (Ex-Officio), Winstead PC and GAHCC General Counsel.
"We are truly fortunate to be in Austin where the breadth and depth of the entrepreneur is more diversified than ever before," said Thomas Miranda, 2014 GAHCC Chair. Javier Palomarez, President & CEO of the United States Hispanic Chamber of Commerce (USHCC), delivered an inspiring keynote address. Palomarez was introduced by Marc A. Rodriguez, USHCC Chairman. City of Austin Mayor Lee Leffingwell proclaimed April 29, 2014, as Greater Austin Hispanic Chamber of Commerce Day in front of the sold-out audience.
About the Greater Austin Hispanic Chamber of Commerce (GAHCC):
Established in 1973, the primary goal of the GAHCC is to continue the advancement and progression of a strong and stable economic culture for Hispanic businesses. The Chamber continues to stand by its mission to build its members' wealth through economic and workforce development, business networking, and community and policy advocacy. GAHCC team members include Mark L. Madrid, President and CEO; Mary Lou Lugo, Senior Executive Assistant; Stefan J. Molina, Director of Strategic Partnership and Hispanic Austin Leadership; Vicky H. Sepulveda, Director of Small Business Initiatives and Events; and Selina Aguirre, Director of Compliance and Contract Administrator. For more information, visit http://www.gahcc.org.