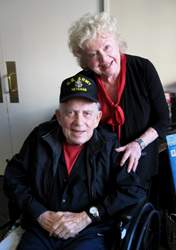 The Zaslows, both Philadelphia natives, have written and published books detailing their colorful lives.
(PRWEB) February 26, 2014
When Harry and Naomi Zaslow's son and daughter visited The Lester Senior Housing Community with them last fall, their son's immediate words to them were: "This is where you belong." The couple has indeed found just what they were looking for at the senior living community, which is owned and managed by the Jewish Community Housing Corporation of Metropolitan New Jersey. The Zaslows—both published authors and lovers of the arts—moved into the Josh and Judy Weston Assisted Living Residence in October 2013 and have taken the programming schedule by storm.
"We love the level of activities here, and I'm so grateful for all the opportunities to get involved," noted Naomi. "Plus, the residents and staff were so welcoming and receptive that they made the move easy for us." They wasted no time getting busy. Harry indulges his love of painting every day and Naomi leads two classes on Jewish folklore and spoken Yiddish, and the newly formed Lester Players, a theater group that will stage play readings. She also participates in creative writing, word games, puzzles, the exercise class, lectures, and discussion groups.
The Zaslows, both Philadelphia natives, have written and published books detailing their colorful lives. Naomi, who was a child actress and later was a successful writer and public relations professional, published "Memories: Of a Life Well Loved" and "The ABCs of Values: A Treasure of Thoughts for Living." Harry recounted his experiences as a young soldier in World War II in "A Teenager's Journey in War & Peace" and wrote and illustrated "Life in the Universe," a Jewish history book.
Zaslow was drafted into the army at age 18 and assigned to the 283rd Field Artillery Battalion which supported infantry divisions in Europe. His battalion liberated the Dachau concentration camp, an event that made an enormous imprint on his life. A decorated veteran with numerous medals and ribbons, he has spoken to over 4800 students and educators about genocide and war.
During his working years as a real estate investor and property manager in Philadelphia, Zaslow painted every night. "I discovered my passion for painting in the fifth grade, and almost flunked out of school because it's all I wanted to do," he explained. "As an adult, I would paint from 9 p.m. to 1 a.m. and as you see, I am still doing it." Within days of his moving in to the Weston residence, Zaslow set up shop in the activities room where he now has "Harry's table" specially reserved for him. He paints there every day and some of his finished pieces hang on the nearby wall.
"When I look at things, I see them differently—the lighting, the seasonal changes. Painting allows me to use my imagination," he said.
An Early Career Blossoms Into Second and Third Acts of Distinction
A chance meeting her mother had led to Naomi attending a drama school in Philadelphia as a youngster. She was put under contract to perform on the radio, and acted in radio plays from ages 5 to 12 on Horn & Hardart Children's Hour, Let's Pretend, The Kate Smith Show and other programs. She also performed in Yiddish at local synagogues. She was involved in theater at Temple University and after college she worked as a scriptwriter for an NBC affiliate.
For over 20 years, Naomi handled award-winning public relations for the Marple New Town, Penn. school district. She became activated in response to societal changes and was concerned about making a difference in the students' lives. She developed, wrote and produced a soap opera, "General High School," a television show that ran on a local access cable channel for 10 years. The show featured teachers talking to students, student interviews and performances, and guest appearances by professional entertainers. "General High School" was nominated for a Cable ACE award and Naomi appeared on national television programs to talk about its long-lived success and positive message for students. In later years, she put her skills to work as an interviewer for The Shoah Foundation, gathering Holocaust survivors' stories to be immortalized for future generations.
The Zaslows were also involved in many community organizations. They were instrumental in founding the Philadelphia Homeowners Association, which provides education and industry support for real estate investors and owners, and served on its board. Naomi also served as president of the school district's PTO, and was president of the South Philadelphia High School Student Council, the Delaware County Press Club, and of her synagogue's sisterhood and the local B'nai B'rith chapter. Harry wrote and illustrated the temple newsletter for several years, which won awards.
Today, the Lester Senior Housing Community is where they focus their energies. In addition to the programming, Naomi also speaks highly of the restaurant-style dining and said "The food is wonderful, and being in a kosher community means my son, who is observant, is comfortable eating here with us when he visits."
The Lester Senior Housing Community is located at 903-905 Route 10 East in Whippany on the Aidekman campus of the JCC MetroWest. It offers independent living or assisted living options with a range of services and upscale amenities within a Jewish setting. It is one of four senior living communities in Essex and Morris counties that are owned and managed by the Jewish Community Housing Corporation. For more information, contact Barbara Knopf, Marketing and Admissions Manager at (973) 929-2725 or visit http://www.jchcorp.org.
###
About the Jewish Community Housing Corporation of Metropolitan New Jersey Founded in 1982, the Jewish Community Housing Corporation of Metropolitan New Jersey (JCHC) owns and manages more than 470 apartments in four buildings for older adults in Morris and Essex counties in northern New Jersey. The non-profit organization offers seniors a range of options in terms of services, amenities, location, and cost, all within a traditional Jewish environment. The JCHC provides housing, programs, and services for the independent elderly as well as those who need assisted living. For more information, go to http://www.JCHCorp.org.