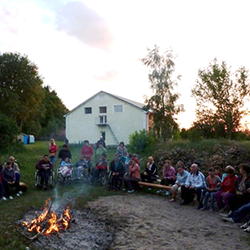 SEND Ukraine is in a unique position at this time to provide moral, financial, and spiritual support
Farmington Hills, Michigan (PRWEB) September 03, 2014
The Russian occupation and annexation of Crimea along with the severe conflict in Eastern Ukraine's Donbass Region (Donetsk and Luhansk) have created well over 100,000 Ukrainian refugees (technically known as internally displaced persons or IDPs).
Evangelical churches and theological institutions all over Ukraine are using their facilities to house many of these IDPs, and believers all over the country are sacrificing their time and resources to provide for the needs of these victims. Also, when the Ukrainian army liberates a city or a village from the pro-Russian separatists, churches and pastors are entering these war-torn areas providing food, mattresses and New Testaments.
One such church offering their facilities is Sumy Grace Church and their camp. The first IDP families began arriving in late June and within a month, 50-60 people were living at Grace Camp. The ages and circumstances are all different, but all are hurting and needing physical and spiritual help.
God has provided people and resources locally to help meet the needs. People have been donating produce from their gardens and churches have been taking up donations to help pay the bills of hosting and caring for these displaced individuals and families. Different individuals from the church are ministering to the people who are at the camp, both facilitating their logistical needs (cooking, helping with transportation, various paperwork needs, etc.) and spiritual needs by leading Bible studies and services at various times during the week.
As Ukrainians, Tatars and others suffer the trauma that this conflict has brought upon so many, often they are more open to spiritual and eternal truth; the truths of the saving Gospel of Jesus Christ address a very current and urgent felt need.
One middle-aged couple commented to SEND missionary, John Paetkau, while he gave them a ride into town, "My mom was a communist, and that is the home that I grew up in. This God thing, I need to think about it. What you are doing here, it is amazing. We are very thankful for it. I've never thought about God before like this. I really need to think about this."
Natasha, a well-educated individual, successful in her career, also received spiritual help. The circumstances she found herself in, with war in her city and she herself displaced and her future uncertain, had shaken her to her core. She began to look for answers. Through the ministry of various individuals at Grace Camp, different discussions, Bible studies and attending the events that were happening, God began to change her heart. SEND missionary Leanne Paetkau had been building a relationship with Natasha, and one evening she had the opportunity to use God's Word to show Natasha how to have a relationship with Christ. Natasha repented and accepted Christ that evening. Up to that day, she had been struggling with depression and fear, but God changed her heart. Her joy was evident. She said, "I'm not depressed or scared anymore. I have peace."
Sumy Grace Church and other Baptist Union churches have been doing many things over the past two months to support and care for these hurting people. God has been using their sacrificial efforts in a mighty way apart from SEND's help. However, they do not have enough funds to continue to provide all that is needed to meet the physical and spiritual needs of the displaced persons.
SEND Ukraine is in a unique position at this time to provide moral, financial and spiritual support to assist Ukrainian Christians as they bring both physical and spiritual food to the victims of this horrible conflict. SEND International has created the Ukraine Refugee Relief project to collect donations for this vital work. Those interested in supporting this ministry can visit http://www.send.org/info/ukraine-refugee-relief/ to make a donation.
SEND International is an interdenominational faith mission agency with around 600 missionaries in more than 20 areas of Asia, Eurasia, Europe and North America. SEND's mission is to mobilize God's people and engage the unreached in order to establish reproducing churches. SEND members are multinational and are recruited and sent from sending offices and partner agencies around the world. For more information on SEND's mission and ministries, visit http://www.send.org.