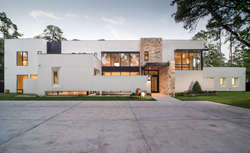 This is every Houston resident's chance to see the inside of 'that unique, cool house you always drive by…'
Houston, Texas (PRWEB) August 29, 2014
Modern Home Tours LLC is returning to Houston, Texas, during their 2014 Fall Tour, which includes stops in Texas, California, Colorado, New Mexico and Canada. During the 2014 Houston Modern Home Tour, attendees will have the opportunity to explore five to eight modern homes in the Houston area that exemplify modern architecture and living. Tourgoers can get the inside scoop from homeowners on what it's like to live in a modern home, and talk to the architects to find out where they got their inspiration. This is every Houston resident's chance to see the inside of 'that unique, cool house you always drive by…'
Continuing a solid partnership, Lawndale Art Center has been named the Houston Modern Home Tour's local non-profit beneficiary for the third year in a row. They will help staff the event, in return for a small donation and the opportunity to use the tour as a fundraising vehicle to help further their mission of presenting contemporary art from regional artists to the masses.
Homes for the 2014 Houston Modern Home Tour are currently being accepted and confirmed. The final roster will consist of five to eight of the area's most amazing modern homes. So far, participating architects and designers on this year's tour include Robertson Design, 2Scale Architects, Intexure Architects, Scott Stasser, and designer Lisa Pope Westerman of Gensler.
Participating homes in the 2014 Houston Modern Home Tour will open their doors for viewing from 11AM – 5PM on Saturday, September 20th, in the Houston, Texas, area. All are invited to attend. Tickets for the Houston Modern Home Tour are $30 in advance online; $40 on the day of the tour. Kids under 12 are FREE when accompanying their parents. For more details, to see a current roster of homes with details and photos, and to buy tickets for the Houston Modern Home Tour, visit: http://modernhometours.com/event/houston-modern-home-tour.
About Modern Home Tours, LLC: Based in Austin, Texas, Modern Home Tours, LLC was founded by partners Matt Swinney & James Leasure in 2010 to introduce modern architecture and living to people across the nation. Through fun and informative tours in dozens of cities across the USA and Canada, the group invites people into some of the most exciting examples of modern architecture and design in the nation. With carefully selected architects, neighborhoods and architecture, the Modern Home Tours are unlike anything you've ever seen. Not only will you learn about the cutting edge of home design while on our tours, but you might even get an idea or two for your next home project!