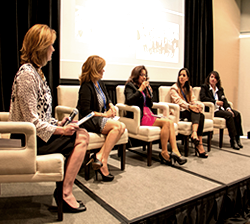 The Nearshore Outsourcing industry has provided women not only the opportunity to have a career, but also the chance to keep improving themselves in the IT world.
San Antonio, Texas (PRWEB) February 05, 2014
Making Sense's CMO Nancy Medica, together with Cesar DOnofrio, CEO at Making Sense were part of Immercio Conference 2014, the Nearshore Executive Alliance's First Annual Conference that took place on January 23rd in Guadalajara, Mexico.
Making Sense is an IT company strongly committed to raising market awareness of the Argentine software sector as an outsourcing destination, which is why they constantly seek to learn about and capitalize on promising new technology trends and breakthroughs. The company is always looking to participate in any kind of industry events for the purposes of networking with, collaborating with and learning from other IT business leaders around the globe.
Immercio Conference was focused exclusively on Latin America's IT and BPO industry and was a great place to find out about new opportunities, challenges and best practices to develop strategic relationships in the Nearshore Community.
As representative to the new US ArgenTIna IT Office, Nancy Medica has been eagerly working in partnership with the Argentine Ministry of External Relations and Culture to launch the ArgenTIna IT International Network that promotes the Argentine software and IT services companies in the major markets around the globe.
This time she had the opportunity to participate in the "It's A Man's World?" panel during the Immercio Conference, where atendees had the chance to discuss the change in Latin America regarding the opportunities for women in the BPO/IT world. The dynamic panel highlighted the role of professional women has changed during the last 10 years in the industry, and the great communication and multitasking skills women have developed through the years. "The Nearshore Outsourcing industry has provided women not only the opportunity to have a career, but also the chance to keep improving themselves in the IT world," stated Nancy Medica as she concluded her speech.
The participation of women in the labor force is significantly higher today than it was in the 1970s, especially among women with children, with most of them working full time and year round. In addition, women have increasingly attained higher levels of education as well.
If we take a look back, working women historically only performed low paid menial jobs, but today they make up the majority of professional workers in many countries and they are an integral part of the workforce.
Making Sense is one of the companies that have also experienced changes regarding the evolution of women participation within our own workforce. The amount of ladies working in the company has increased significantly in the last couple of years. Today approximately 30% of their current employee roster includes talented women who enrich the workplace and are such an integral part of our success and daily improvements.
In recent years the Argentine technology sector has grown considerably positioning the country as an emerging leader and innovator within the Latin American region. Making Sense is very proud to have one of our team members representing them in in the BPO/IT world, and most important representing their women workforce. We think women play an important role in today's IT world.
About Making Sense
Making Sense is an IT company that has specialized in the development and implementation of software and web applications for different companies since 2002. It has over 120 employees who work in different offices located in United States, Argentina and Mexico.
The company offers the latest software development strategies, and has many partners worldwide. Some of its most prominent clients include Rackspace, DELL and AMD. The products Making Sense is well-known for include Doppler™, the most widely used email marketing tool in Latin America, which allows users to create, send, analyze and optimize email marketing campaigns very simply, quickly and effectively, and Lander™, a software tool that enables the creation of landing pages in minutes.
In recognition for its work in fostering ArgenTIna IT outsourcing to the U.S., Making Sense received a special mention at the Polo IT Buenos Aires event in December 2012 and was chosen as representative to the United States ArgenTIna IT office in Austin, Texas.
Consistently demonstrating a high degree of technical excellence, Making Sense is passionate about and maintains a strong commitment to offering outstanding service and quality custom software products.
In 2013, two products developed by Making Sense were nominated for very prestigious Sadosky Awards:
VidTac gives police department patrol cars high definition video capability while cutting equipment costs. It was developed through collaboration with COPsync, which operates the nation's largest real-time information sharing, communication and data interoperability network for law enforcement agencies.
Lander is the previously mentioned easy-to-set-up landing page platform with clients in over 132 countries.
The Sadosky Awards are given each year by CESSI, The Chamber of Software and Computer Services of Argentina, in honor of Manuel Sadosky, an illustrious scientist widely regarded as the father of the Argentinian computer science profession. They celebrate and honor excellence and innovation in the Argentinian software industry.
Making Sense is pleased and honored to announce that Lander won the 2013 Sadosky Award in the category of Best Information Entrepreneurship Product.
Contact:
Making Sense LLC
Sergio Andueza
VP, Global Operations
+1.650.265.7673
sandueza(at)makingsense(dot)com