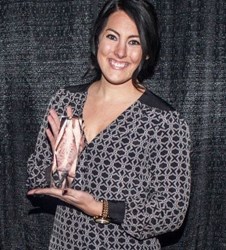 Indianapolis, IN (PRWEB) January 16, 2014
The 2014 STAR Awards, presented by Indiana Society of Association Executives, honored Indiana CPA Society (INCPAS) for Best Philanthropic Program of Indiana associations with an organizational budget of $750,000 or more.
Ali Paul, INCPAS leadership & outreach manager, oversees the INCPAS Scholars program — a unique year-long career awareness program for minority high school students with an interest in business and/or accounting. She has been an integral part of INCPAS' push to increase awareness of the need for diversity throughout the CPA profession, and encourage students of diverse backgrounds to consider accounting. The Scholars program is in going into its fourth year and has already successfully impacted 55 diverse students.
Over the course of the year, Scholars participate in activities with their mentors. They attend a "dress and dine" event to improve their business etiquette and learn about appropriate business attire. They visit businesses and universities, and participated in CPA profession events and conferences to see firsthand how CPAs operate in real-world environments — all valuable opportunities they may not have had if not a part of the program.
Mentors, who are paired with scholars, play a significant role in the success of the program. This aspect of the program is especially beneficial to students who are first generation college students. As the year goes on, Scholars begin to hone in on what they want to do post-graduation and create a plan of action outlining how they will accomplish their goals. The Society intends to maintain a lifelong relationship with each Scholar following graduation, provide support for them as they pursue their college degree and the CPA designation, and also continue to involve them in the program in various ways — serving as a buddy, speaking on panels, recruiting future Scholars, etc. And the valuable relationships each Scholar develops with their mentor and other professionals will carry on throughout their professional career.
The innovative and effective solutions offered by the INCPAS Scholars program already reach beyond the general INCPAS membership and have the potential for a broad impact on the minority students and the CPA profession nationally. Not only will advances in ethnic diversity stemming from the program increase the talent pool of future CPAs, but it will help the profession become more representative of today's society.
###
About the Indiana CPA Society:
Currently, more than 7,000 CPAs in public practice, industry, government and education are members of the Indiana CPA Society. INCPAS serves the public interest as well as its members. Its members are required to abide by the CPA profession's code of conduct. INCPAS members also receive access to quality educational programs provided by the Society, resources that enable them to better perform their job functions, and peer networking for information sharing that broadens their skills and knowledge base. Indiana CPA Society members are the most highly qualified and competent CPAs in Indiana. Make sure your CPA is a member of the Indiana CPA Society.