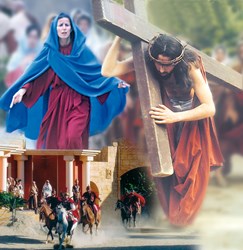 Central Holidays has been regarded as the 'Italy expert'... The Passion Play of Sordevolo gives us a chance to enhance our already substantial Italy expertise with something brand new in a growing tourism field.
Moonachie, NJ (PRWEB) January 31, 2014
Central Holidays is offering an exciting opportunity for travel agents to enhance their faith tourism offerings by adding the 2015 Passion Play of Sordevolo, Italy to their line-up of spiritual tours. As part of an alliance with the town of Sordevolo, Central Holidays has been named the exclusive ticket distributor for the 2015 Passion Play which will take place from June through September 2015. Group tour packages that include tickets to the production are available now.
Similar in tradition to Oberammergau that brings thousands of travelers to Germany every 10 years, the Passion Play of Sordevolo presents the final days of Christ and is performed every five years against the backdrop of Piedmont's Sacred Mountains. Sordevolo's prime location places the event in the heart of an Italian pilgrimage site and makes combining the theatrical experience in Sordevolo with vacations to larger cities—such as Rome, Florence, or Venice—simple. The centrality of Piedmont enables Central Holidays to design an array of inclusive and diverse travel packages that can be seamlessly added to an agent's or group planner's product range.
"We are excited to offer this spectacular travel experience to our agents. For over 40 years, Central Holidays has been regarded as the 'Italy expert'. We are proud of the trust travel agents place in us. The Passion Play of Sordevolo gives us a chance to enhance our already substantial Italy expertise with something brand new in a growing tourism field," says Gianni Miradoli, CEO of Central Holidays Travel Group.
Currently tickets are on sale for group travel only; individual travel and ticket sales will open to the public in January 2015. Packages can be customized by Central Holidays' destination specialists to cater to the specific needs of these groups or individuals.
"We see this as a wonderful community building experience. In fact it's the residents of Sordevolo themselves who come together to stage this event. You won't see professional actors or production crews," says James Zitani, Vice President of Sales at Central Holidays Travel Group. "While the story is especially meaningful to the faithful, the magic of seeing live theater, especially of this magnitude, can be universally captivating. I encourage everyone to visit passiontours.net to see a preview of the play as well as the stunning countryside that surrounds Sordevolo. Family reunions, incentive trips, and cultural exchange can enjoy the Passion Play of Sordevolo and Piedmont."
For additional details, to plan a group trip, or to book a package that feature Passion Play of Sordevolo Italy, or to watch a video about the 2010 production, travel agents and tour operators should call Passion Tours by Central Holidays at 800.539.7095 or visit passiontours.net.
History of the Passion Play of Sordevolo
Since the early 1800s, residents of the tiny hamlet of Sordevolo in Piedmont Italy's Biella province have joined together to stage a grand production of the Passion of Christ. Impressive, unique and moving, more than 400 of Sordevolo's residents transform the ancient city streets into a reconstructed corner of Jerusalem circa 33 A.D. This production pays close attention to every detail, from chariots to Roman armor, and depicts the Passion of the Christ from the moment Jesus entered Jerusalem to the Resurrection. Performed in Italian, it is a major production staged and acted by Sordevolo's local population; many of the acting roles are passed down from generation to generation.
About Central Holidays:
Founded in 1972, Central Holidays offers superior travel programs, value, and service to enchanting destinations across the globe. Destinations include Italy, Spain, Portugal, France, Cyprus, Greece, Turkey, and Croatia. The company also offers dozens of Mediterranean and European river cruise itineraries, worldwide ski programs, religious pilgrimage travel, as well as people-to-people educational exchange travel to Cuba. The company's sister brand, STI by Central Holidays, presents novel travel opportunities throughout Central and South America, Africa, and the Middle East. Central Holidays and its family of travel companies remain at the forefront of the global tourism and travel industry, offering the most diverse range of travel programs that support brand promises of reliability, expertise, and flexibility. For more information, contact Central Holidays at 1-800-935-5000 or visit centralholidays.com.
###