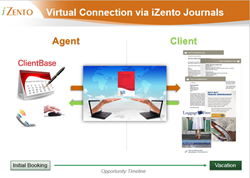 iZento + ClientBase Connector is far more than a revolutionary trip consolidator, it is also a cool selling and training tool that helps travel agencies and agents increase revenue and raise the quality of customer data
San Francisco, CA (PRWEB) September 17, 2014
Travel technology company iZento today announced the release of the new iZento Vacation API + ClientBase Connector after beta testing and previews by agencies, agents, and consortia groups. The iZento Vacation API takes booking data input into a company's preferred reservations system and automatically transforms it into a comprehensive itinerary in just minutes. The iZento ClientBase Connector is an application that makes the same functionality available to ClientBase users with no extra data input on the part of the agent. Additionally, the iZento ClientBase Connector features quality control functionality that helps eliminate errors in ClientBase Res Card data and raises the quality of client data.
"From large scale agencies and consortia groups, to host agencies and agents themselves, the resounding feedback about the new ClientBase-iZento Connector is that of excitement to start using the system because it's far more than a revolutionary trip consolidator, it is also a cool selling and training tool that helps agencies and agents increase revenue and raise the quality of customer data," said Judy Roberts, co-founder of iZento.
"iZento's technology works with ClientBase to deliver clients a comprehensive interactive relationship from inception to completion of their travel experience with the travel agent. As the trip takes shape so does the travel journal. Throughout the booking process iZento provides built in quality control support while simultaneously providing clients with an evolving travel journal that delivers all the possibilities right to their fingertips.", says Tom Milgate, National Sales Director of iZento.
--Auto Creates Itineraries from ClientBase Res Card Data--
The new iZento Vacation API + ClientBase Connector automatically creates a comprehensive travel itinerary from the data an agent includes on the ClientBase Res Card for a booking. Booking details automatically imported include: air, hotel, car rental, rail, cruises, tours, transfers, and insurance. This information is packaged by the API system to create a comprehensive itinerary with a daily agenda for the trip, calendar, city maps and robust city guides. The agency can brand each trip journal with their logo and include their contact details, add agent recommended tours, and include agency-generated ads on the advertising pages for incremental revenue. Within a few minutes from the time the agent completes their ClientBase Res Card entries, an email arrives with a link to a completed itinerary journal that can be shared with the client, printed, or posted on Facebook.
Amanda S. Klimak CTIE, President of Largay Travel, one of New England's premier travel management organizations with a team of 55 travel advisors said, "Our advisors have been working with the iZento API since March and it is amazing how this product has evolved. The API function allows advisors to add information in one place, ClientBase, and have it transformed into a professional client journal. Additionally, it has allowed me to find errors in ClientBase that I would have never known existed. This is a great product with much potential."
--Quality Controls Eliminate Errors in Res Card Data--
In addition, the new ClientBase Connector features quality control tools that highlight errors and omissions in key data elements of a Res Card. The innovative iZento TripChecker identifies and alerts agents of data entry errors, helping to raise the quality of their client data. The TripChecker also performs logic checks based on an analysis of the travel timeline, so that events with timing errors are identified. This functionality makes it easy for agents to know if they need to update reservation data in the Res Card prior to finalizing their booking.
"iZento's ClientBase Connector makes it virtually effortless for agents to create comprehensive itineraries with built-in quality controls that actually serve as a practical and easy form of training to help travel pros use the ClientBase system most effectively," said Roberts. "If there is an error or missing data on a Res Card, the agent receives an email alert to see how to fix the Res Card, saving them time and ensuring that the customer data is correct and complete – ideal for ongoing marketing and client retention initiatives."
--New Ad Revenue and Upsell Options Increase Income--
Beyond these valuable offerings, the new API + ClientBase Connector provides users with various new channels to increase their revenue and upsell. Included in each itinerary are a Recommend Tours section, where agents can mark Res Card Tours "Quote" to maximize incremental sales, and agency-generated Advertising Pages, where pages within the trip journal can be sold to suppliers, destinations, or other advertisers as a new revenue stream that more than pays for the service, offering a new income source for agencies and consortia. Ads can be hot linked and even be tagged to specific vacation destinations to maximize their impact.
"The interest in and demand for the new iZento ClientBase Connector has been tremendous," said Julie Durham, Director of Sales ClientBase & TRAMS Products and Services. "Agencies love the idea of getting marketing dollars from ads that can be incorporated into the trip journals…not to mention the added revenue agents can get using the 'recommended tours' feature to drive ancillary sales. Plus, the API features insightful destination guides included for free. With all of those winning benefits delivered automatically in a polished document with complete trip details it's easy to see how the new API helps travel professionals make more money and really allows them to shine."
--Free 30-Day Trial--
To celebrate the release of the new iZento Vacation API + ClientBase Connector, iZento is pleased to offer agencies, consortia groups, and host agencies a 30-day free trial of the application where they will be able to run real bookings through the Connector to preview results before they sign up for this innovative offering. The iZento Vacation API + ClientBase Connector is a software package that will easily install via an installation wizard on the agency's ClientBase back office server or workstation.
For additional information about the new iZento Vacation API + ClientBase Connector or to request a complimentary trial, contact: Tom Milgate at (585) 538-4442 or email sales (at) izento.com.
About iZento:
iZento provides patented technology solutions for travel providers, travel technology companies, travel agents and travelers. Established as the most comprehensive online travel planning and itinerary building service with tools and resources designed specifically for travel professionals, iZento began delivering customized private label solutions in 2009.
The iZento Travel Provider Platform is available to travel industry providers who are looking to differentiate their offerings and create new revenue streams. Completely customizable, the platform can be implemented to transform a company's raw data to create interactive itineraries and serve as a novel marketing engine. The company's subscription service for traditional and home-based agents continues to grow and provide travel specialists with a cost effective and easy-to-use option for building complex itineraries with swift efficiency. iZento's development processes are effected by The Nerdery (nerdery.com).
For additional information on iZento technology for Travel agents, travel suppliers, and travelers, visit the company's website at iZento.com. or email sales@izento.com
###