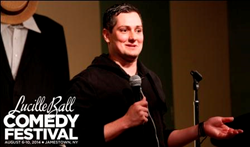 Jamestown, NY (PRWEB) August 06, 2014
Comedian Joe Machi will appear on NBC's national broadcast of the "Final Four" on Last Comic Standing Thursday night, and then perform in Jamestown, NY on Friday night. Machi, who has advanced to the finals of Last Comic Standing in a competition which began with 100 comedians, will be performing on August 8 during the Lucille Ball Comedy Festival. Last Comic Standing airs this Thursday night at 10pm on NBC.
Machi, a fan-favorite from the 2012 and 2013 Lucille Ball Comedy Festivals, will perform in Jamestown on Friday, August 8 during the free Comedy Happy Hour (5pm; Jamestown Gateway Train Station; FREE) and Comedy Late Night (10:30pm; Lucy Desi Museum & Center for Comedy; $15). Tickets for these events and more can be purchased at http://www.lucycomedyfest.com or by calling the festival box office at (716)484-0800.
Jay Leno appeared last week on Last Comic Standing and gave guidance to Machi during the episode. Leno will be performing during the Lucille Ball Comedy Festival on August 9th to end a weekend of headline comedy also featuring comedians Tom Cotter (Aug 8) and Caroline Rhea (Aug 7).
Machi will be performing on Friday during one of three nights of late night comedy (Aug 7-9) at the Lucy Desi Museum & Center for Comedy, featuring rising talent from across the country. A live comedy album will be recorded by San Francisco-based Rooftop Comedy for a second consecutive year, featuring Sean Donnelly, Chet Wild, Rick Matthews, Jarwan Nelson, Emma Willmann, Mike Brody, Pete Lee, Mike Cody, and Tony Deyo.
During the 2013 Lucille Ball Comedy Festival, Machi performed during both the Stand-Up Showcase and Comedy Late Night. His track is available on the 15-track, Live From Jamestown: Late Night @ Lucy Comedy Fest, on iTunes, Spotify, Pandora, the Lucy Desi Museum gift shop at 2 W. 3rd St and shop.lucy-desi.com. Other comics appearing on Live From Jamestown include Myq Kaplan, Jackie Kashian, Sean Keane, Kelly MacFarland, Harrison Greenbaum, Andi Smith, Calise Hawkins, Keith Alberstadt, Josh Gondelman, Andy Hendrickson, Kelly Collette, Jim Tews and Andy Sandford.
The Lucille Ball Comedy Festival, which takes place in Lucille Ball's hometown of Jamestown, NY, is the first in a four-pillar vision for the Lucy Desi Museum & Center for Comedy, including a comedic arts education program, a comedy film festival and the establishment of the first National Comedy Center. The 2014 Lucille Ball Comedy Festival takes place this upcoming weekend (Aug 6-10) and features over 50 events in five days including performances by Jay Leno, Lucie Arnaz, Tom Cotter, a Stand-Up Showcase featuring comedian Caroline Rhea, the return of Comedy Late Night and much more. Past festivals have featured Ray Romano, Ellen DeGeneres, Lewis Black, Bill Engvall, Kathleen Madigan, Billy Gardell, Joan Rivers, Paula Poundstone, Tammy Pescatelli, and many more.
The National Comedy Center in Jamestown is envisioned as a multi-media complex providing a personalized celebration of all forms of comedy. The national attraction is being designed by Jack Rouse Associates and Manhattan-based Local Projects, who just completed the 9/11 Memorial Museum that opened on May 14, 2014.
For more information on the Lucy Desi Museum & Center for Comedy or the National Comedy Center, Inc., visit Lucy-Desi.com. To purchase tickets to comedy festival events, visit LucyComedyFest.com or call (716)484-0800.
###
To arrange interviews, or additional assets contact:
National Media: Barbara Pflughaupt – 212-707-8181, BP Media Relations, LLC
Local Media: Steve Neilans – 716-484-0800, Lucy Desi Museum & Center for Comedy