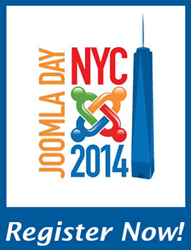 These community-driven events offer a chance for folks to get introduced to new ideas and information that can improve their experience with using the Joomla CMS and as a likeminded community we can have a lot of fun in the process.
Boston, MA (PRWEB) October 02, 2014
Christopher Nielsen, CEO of CNP Integrations, has been selected as a presenter at JoomlaDay New York, to be held October 11 and 12th, 2014 at Microsoft's office on 11 Times Square, New York, NY 10104.
Christopher Nielsen will be presenting on each of the two days on two important topics related to the Joomla CMS Community. The first topic will be exploring what makes Joomla unique in the marketplace and why Joomla is an important force in the industry. The second topic will cover the Joomla Resources Directory (JRD) and how this new portal will best serve the vast community of Joomla users and providers.
Event information, the schedule for the presentations and a full line up of presenters can be found on the event web site: http://joomladaynyc.com
On Saturday October 11th, "Why Choose Joomla for your Business" will be an exploration of how individuals and their business associations can benefit though their involvement with Joomla. Asking the right questions "Why", "How" and "What" and in the right order will help people do more with Joomla and beyond. Using the Joomla CMS platform for fueling and organizing business communications or commerce online is just part of what will propel the Joomla community into bigger future success. Currently, Joomla is at a transitional phase in its evolution as a leading force in the open source technology revolution and this fact will be an internal reflection for participants in a bid to helping identify key strategies they can use for professional development and growth of their Joomla-centric business. It will set a baseline for managing expectations of change in the community, adopting to transitions within the marketplace and finding where to best fit in.
On Sunday October 12th, The Joomla Resources Directory explores the redesign of a community project http://resources.joomla.org that started over five years ago. The new JRD team has done more than build a new portal of registered provider listings and linked profiles, it has organized a team and foundation for institutionalizing this faction within the Joomla Community. The JRD has attracted a diversely talented team of Joomla providers who have all partnered together and contributed to organize a long-term strategy and support structure for maintaining and enhancing the professional support and information resources available to the Joomla user community.
Joomla, as a volunteer-driven project and a free open source technology solution, is not in a position to endorse or sponsor any organization affiliated with using or building web sites that are powered by the Joomla CMS. However, they can, and have set standards of professional conduct and community involvement requirements to help users of the JRD feel confident the registered provider listings and linked profiles listed within it uphold a common business ethic and are involved at some level with supporting community initiatives. The JRD even has it's own "Connect and Do More" badge that registered providers can share on their web sites similar to how the BBB (Better Business Bureau) offers affiliation.
The new JRD was designed to serve two primary audiences. One is to provide end users such as businesses, organizations or civic institutions that power their web sites with Joomla a directory of qualified "Registered providers" they can reach out to for professional support. The second is to give "Registered providers" and associated "Linked profiles" (the people and companies serving the Joomla community) a resource to forge partnerships or build collaborative relationships. The anticipated results will be a rising level of support for Joomla while increasing community participation and information sharing.
Christopher Nielsen has been an active contributor of the community for the past six years and a dedicated user as well since it's early days branching off the mambo project. He has been a presenter at numerous JoomlaDay events in the US and Brazil and is currently involved with several Joomla marketing initiatives, including serving as co-chairman of the Joomla Resources Directory along with kickstarting the new Greater Boston area Joomla user group.
CNP Integrations is a "Union Square Park" Sponsor of this two-day "JoomlaDay" event. JoomlaDay New York will be filled with social interactions, including insightful learning paths and feature presentations by many well-known web developers, designers, marketers, and Joomla experts.
"Participation in JoomlaDay New York is a real honor. These community-driven events offer a chance for folks to get introduced to new ideas and information that can improve their experience with using the Joomla CMS and as a likeminded community we can have a lot of fun in the process. With the rapid adoption rate of the new Joomla 3.x series and many other recent initiatives, this is an especially exciting year for the Joomla community and I am glad to be involved during this transitional time," Says, CNP Integrations CEO and co-founder, Christopher Nielsen.
About Joomla!
Joomla! CMS, http://www.Joomla.org, first took the marketplace by storm in 2005 and has since delivered key technology innovations that propelled this platform to gain market share globally of nearly 3% of all websites online. The Joomla CMS ranks number one in most of Europe and is consistently in the top three CMS's all around the world. Their most recent release of Joomla 3.x combined with a vibrant and ever expanding global 3rd party vendor network, Joomla is anticipated to further bolster adoption rates. Since the overwhelming success of Joomla has been built from a 100% volunteer organization it is a unique business model which transcends borders, boundaries and stands out as a leader in the revolution of open source technology.
CNP Integrations has built a world class technical support and consulting practice around delivering enterprise level Joomla CMS support for small to midsized businesses (SMB's), Governments agencies and non-profit organizations using the Joomla CMS.
CNP Integrations is known for delivering world class support for Joomla CMS.
CNP Integrations has an engaged global team of technical and configuration experts and employs highly skilled programmers and project managers with the focus of providing the most responsive web application support services for the Joomla CMS and other compatible technologies. CNP Integrations is a business division of Creative Networks Protocol Inc., a Massachusetts based corporation. CNP Integrations offers premium technical support and hosting with a value building methodology and a proven process of project management success. CNP Integrations primarily provides services across the United States but has serviced customer globally in 7 countries on 3 continents.