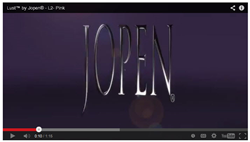 They are simply stunning to watch and we hope everyone enjoys them!
Los Angeles (PRWEB) August 04, 2014
JOPEN, the global name in luxury pleasure products, offers 12 exciting new videos. Produced in a more elegant, entertaining, contemporary style, they are functional and engaging.
Desiree Duffie, Director of Public Relations for JOPEN, says, "The videos have upbeat music, a lively voice over, animated graphics, and are shorter, making them enhance the buying experience."
"Videos that lead to sales conversions are our mission with the new JOPEN product videos," explains Susan Colvin, President and CEO of JOPEN. "We did market research to make them effective at quickly telling the story about each individual product. They are simply stunning to watch and we hope everyone enjoys them!"
All JOPEN videos are available on the company's website. Find them on each individual product's page or on the Videos Page. Another easy option is an Excel spread sheet with all the embed codes, which can also be found on that page.
Robin Stewart, Brand Manager for JOPEN, adds, "In addition to being great sales tools, the videos can be used to train store employees and educate the end consumer about sexual health and wellness. JOPEN pleasure products are luxurious and packed with many amazing features and benefits that deserve a little extra attention, and that's what these fabulous product videos achieve!"
JOPEN is also creating a series of Bonus Videos for LUST and ENVY. Hosted by Jaiya, the award-winning sexologist, author of Blow Each Other Away, and a Club CalExotics Expert Sexpert, they delve into actual ideas on how to use the product. Produced to compliment the Product Videos, the Bonus Videos are longer and more intimate. The first one covers the functionality of the petals on the LUST L5, L6 and L7. More videos for LUST and ENVY are coming soon, and all of them can be found on the JOPEN Website on the individual product's page, on the Videos Page, or on JOPEN's You Tube Channel.
About JOPEN, LLC
JOPEN is a global luxury pleasure product company with a business model focused on form and function. An expert team of women drives the creation of JOPEN's best-selling collections: EGO, ENVY, Essence, Intensity, KEY, LUST and Vanity. JOPEN understands the luxury market and fashions JOPEN products with the features that women and men want. JOPEN has licensed, authorized distributors, which guarantee efficient, accurate, rapid delivery so retailers always have available stock. JOPEN provides pleasure with outstanding customer service, one of the best warranty programs in existence, and products that are designed to please. Visit http://www.JOPEN.com. Encounter the new standard in luxury pleasure products.