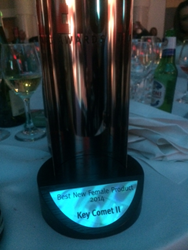 It's absolutely thrilling to receive this honor! Everyone here at JOPEN should be incredibly proud.
Birmingham, UK (PRWEB) June 24, 2014
JOPEN, the global name in luxury pleasure products, brings home the prestigious ETO Award for Best New Female Product. The KEY Comet II by JOPEN won the honor at the ETO Awards held in conjunction with the ETO Show June 22nd and 23rd, 2014 at the NEC Pavilion, National Exhibition Centre.
Susan Colvin, President and CEO of JOPEN, says, "It's absolutely thrilling to receive this honor! Everyone here at JOPEN should be incredibly proud. Plus we're very appreciative of all the amazing support Creative Conceptions, our UK distribution partner, has given us with the KEY Collection in the UK. Thank you Dale and Lee and everyone at ETO for putting on an outstanding show and for this prestigious honor!"
The KEY Comet II is the result of an intuitive design that was enhanced due to consumer feedback. The JOPEN product development team added vibration to the first Comet to make it more versatile and feature-packed. It is one of the premiere items in the KEY by JOPEN range of products.
ETO celebrated their 10th annual show with a larger venue and a spectacular awards show presentation.
Angela Mustone, International Business Development Manager for JOPEN, says, "Every major distributor exhibited our products. Creative Conceptions displayed the entire KEY range in their booth, plus items from the Apollo and COLT Collections, and the top 300 items from JOPEN's sister company, California Exotic Novelties. Scala Playhouse featured Embrace, Scandal, Entice and the LUST by JOPEN Collections; Dusedo displayed COLT; and ABS exhibited ENVY by JOPEN in their booths during the ETO Show. The show was packed and incredibly busy. What a great all-around success!"
To learn more about KEY and other JOPEN collections, visit http://www.JOPEN.com.
About JOPEN, LLC
JOPEN is a global luxury pleasure product company with a business model focused on form and function. An expert team of women drives the creation of JOPEN's best-selling collections: EGO, ENVY, Essence, Intensity, KEY, LUST and Vanity. JOPEN understands the luxury market and fashions JOPEN products with the features that women and men want. JOPEN has licensed, authorized distributors, which guarantee efficient, accurate, rapid delivery so retailers always have available stock. JOPEN provides pleasure with outstanding customer service, one of the best warranty programs in existence, and products that are designed to please. Visit http://www.JOPEN.com. Encounter the new standard in luxury pleasure products.
# # #
JOPEN Press Contact
Desiree Duffie
Director of Public Relations, JOPEN
14211 Ramona Ave.
Chino, CA 91710-5751
Phone: 909-465-4956
Fax: 909-590-5209
Twitter: DDuffie
Facebook: Desiree Duffie
Desiree(at)JOPEN(dot)com