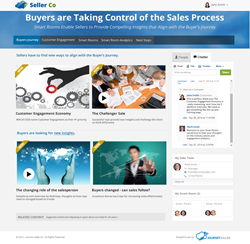 "We see a huge opportunity to transform selling by giving Salespeople solutions that facilitate the Buying Process and make it much more engaging."
Conshohocken, PA (PRWEB) October 07, 2014
Journey Sales launched its Smart Room customer engagement solution today on Salesforce's AppExchange. Smart Rooms are 100% integrated with Salesforce and allow salespeople to align their sales process with the buyer's purchasing process. Engagement metrics based on buyer interest and activity drive smarter, more successful collaboration.
57% of a purchaser's process is completed by the time they interact with a salesperson, according to CEB and The Challenger Sale. "Buyers have changed their purchasing process dramatically, and so far, sales has not adapted appropriately. We see a huge opportunity to transform selling by giving salespeople solutions that facilitate the buying process and make it much more engaging," says Bill Butler, Co-Founder and CEO of Journey Sales.
Those solutions are turn-key yet flexible Smart Rooms. The seller can provide a variety of content, curated from external sources as well as created internally, that is matched to the buying stage and provides customers and prospects with a streamlined experience available 24 hours a day.
Prit Kang, Co-Founder and CTO of Journey Sales, says, "We built natively within the Salesforce1 Platform to help clients better leverage their existing CRM investments. Smart Rooms are built on Salesforce's Community Cloud and include Chatter so buying and selling teams can collaborate privately within their Smart Room." The ability to easily add powerful content over time powers the nurturing process and allows sales teams to continuously educate and collaborate with buyers. Smart Room analytics include a powerful Engagement Index which uniquely illustrates where a buyer is in their purchasing process based on their interaction with Smart Room content.
"We want to transform selling," say Kang and Butler. "There are a number of tools for marketing folks that enable customer engagement, but sales reps primarily use their CRM. With Smart Rooms we can bridge the gap that occurs during the hand-off from marketing to sales and maintain visibility into a prospect's Digital Body Language based on activity and interest. That will lead to much more effective selling."
Journey Sales is a sponsor at Salesforce's Dreamforce `14 event in San Francisco October 13 – 16. To find out more about Smart Rooms, visit the Journey Sales founding team at Booth N2250 in Cloud Expo North at Dreamforce `14; visit the website; watch a brief video overview; or visit the AppExchange.
Journey Sales launched in 2014. Founded by executives with vast experience in sales, technology, and CRM solutions, the company is focused on building innovative tools that will improve the sales process through better alignment with buyers' needs.