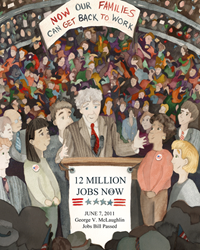 "Life is about unity and teamwork. The USA Jobs Party has no affiliation with any political party. It is an attitude that says we have work to do and jobs to create. Why not have fun doing it?
Reisterstown, Maryland (PRWEB) May 25, 2014
It's October 2008. Televisions across America are tuned CNN's "The Situation Room" with James Carville and Sarah Palin discussing high unemployment rates. The United States' economy was rapidly facing depression. The House and Senate were gridlocked. Unemployment increased while politicians fought.
At the same time, the country was electrified with excitement and controversy. America was on the brink of electing its first African American President. Radio host Michael Baisden, in efforts to keep up audience morale, turns his show into a "party."
Gloria McLaughlin, inspired by Michael Baisden's talks of "having a party," created the "USA Jobs Party" based on the idea of race reconciliation and working together in harmony one with another regardless of race and culture. Find out more at http://www.usajobsparty.com
"Life is about Unity and teamwork. The USA Jobs Party has no affiliation with any political party. It is an attitude that says we have work to do and jobs to create. Why not have fun doing it? It is then that I realized that in order to put America back to work, we would have to rely on the resources of its citizenry, not politicians. I'm going to have to do motivate and energize the nation so we can get America working again."
McLaughlin, at the time, was developing a proposal inspired by Michael Baisden who had announced on his radio show that he would give $500,000 to an applicant who submitted the best business proposal.
"When Michael Baisden made the announcement, I knew that submissions would be from individual entrepreneurs starting small businesses oriented toward meeting the needs of local clientele. I knew in America, the biggest problem was job creation. So I wanted to tackle America's number one problem - joblessness, in particular in communities where there were large numbers of people of color." (Gloria McLaughlin)
Gloria sought to develop a proposal that was focused on creating jobs, millions of jobs. This led to the 12 Million Jobs Project and the subsequent book, "12 Million Jobs Now" under the pseudonym, "George V. McLaughlin" (currently available on Amazon.com).
Who is the true creator of the plan to create 12 million jobs for Americans?
The business proposal and book were written in 2011, with the pseudo author's name as George V. McLaughlin and the website launch, http://www.12millionjobsnow. The website in late 2011, modified in early 2012 does lead many to question, "Did Mitt Romney see the website and use its concept to promote his 12 Million Jobs Platform when running for U. S. President in 2012?
While it cannot be proven, Mitt Romney successfully marketed a 12 million jobs platform with nearly half of the voting American population voting for him in hopes of getting back to work and on their feet. So, we ask again: Where are the 12 million jobs Mitt? Romney had both the resources and personal ties to implement the 12 Million Jobs initiative whether he was in office or not. The initiative, calls for zero federal funding. If he were truly committed, America would be working right now.
Who is Gloria McLaughlin? Why did she have an artist create a website showing a white man standing behind a podium stating that the American people have unanimously approved the "George McLaughin Jobs Bill on June 7, 2011" to put millions of Americans back to work?
Click link to listen to the pre-recorded interview, with Gloria McLaughlin on her 12 Million Jobs Methodology
Buy this book immediately to read the blueprint to find out how to create 12 million jobs without federal dollars, without politicians, without outsourcing, yet have lots of fun partying all the way to full employment. Order your copy now! http://bit.ly/12MillionjobsAmazon