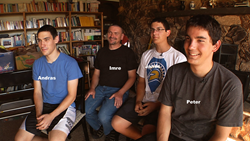 The price of success is hard work, dedication to the job at hand, and the determination that whether we win or lose, we have applied the best of ourselves to the task at hand......Vince Lombardi
San Francisco, CA (PRWEB) August 27, 2014
You will not meet a more unselfish and giving family than the Kabai Family. They are always looking for ways to bring awareness and benefit of Judo to blind children, young adults and our blind military men and women of the Blind Judo Foundation.
This is not the family's first attempt in making a difference to blind and visually impaired athletes of the Foundation. Approximately six years ago, the patriarch of the family, Imre was scheduled to fly his ultra-light plane from California taking a northern route to the east coast and returning by a southern route back to California. Besides the challenge, he wanted to shed light once again on blind children being introduced and trained in the life empowering sport of Judo under legendary Coach Willy Cahill.
Cahill is the owner of Cahill's Judo Academy and Co-Founder of the Blind Judo Foundation. Cahill is not new to enhancing the lives of the blind through the sport of Judo.
Two years ago brothers Peter and Janos rode their bicycles from New York City back to California. There were numerous experiences gained for the long journey. The Arctic Circle to California posed a different and unique set of challenges. Their blog and daily journey can be seen on their website http://gojudoka.com.
At the same time Peter and Janos' father, Imre and brother Andras were preparing for what was destined to be a Guinness Book of World Records kayaking from Whitehorse, Canada up the Yukon River through Alaskan wilderness out to the Bering Sea. This trip was fraught with bear attacks and other hardships which can be read on the same website / blog gojudoka.com.
Both trips were promoted to help raise funds to support 10 worthy blind athletes to attend Judo camps. The Governor of Alaska, the Honorable Sean Parnell was contacted for recognition of the Kabai Family Alaskan Challenge promoting Judo to the blind and visually impaired of the Blind Judo Foundation. See the letter from Governor Parnell.
Their funding challenge is still open for those who would like to make a difference in the life of one or more worthy blind athletes to attend Judo camps and tournaments. Check out Razoo.com as all donations are tax-exempt.
About the Foundation:
The Blind Judo Foundation is a nonprofit 501(c) (3) organization whose mission is to empower the blind and visually impaired using the tools and tenets of Judo. The Funding of blind and visually impaired athletes to train, travel domestically and internationally is through tax exempt donations; their financial life-line. To learn more about the Foundation, check out blindjudofoundation.org and at Facebook or contact Ron C. Peck at roncpeck(at)blindjudofoundation(dot)org or 1-425-444-8256.