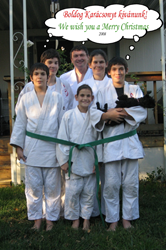 Some men give up their designs when they have almost reached the goal; while others, on the contrary, obtain a victory by exerting, at the last moment, more vigorous efforts than before... - Polybius
(PRWEB) June 24, 2014
The Kabai Family members are no strangers in bringing awareness of Judo for the blind and visually impaired especially of the Blind Judo Foundation. The family continues to challenge themselves with accomplishments others might not even consider.
The summer of 2014 two Kabai brothers, Peter and Janos will be flying with their bicycles up above the Arctic Circle to Prudhoe Bay, Alaska where they will start their trek back to the San Francisco Bay Area. In 2012, NBC captured a similar trip when they flew with their bicycles to NYC and rode them back to the San Francisco Bay Area.
They will have GoPro Cameras so they can share their adventures. Their goal is to raise funds to help worthy blind and visually impaired individuals with introductions to Judo, training camps, tournament fees and travel for life enhancing experiences.
At the start date, their father and another brother will kayak the Yukon River starting in the Yukon Territory of Canada through Alaska out to the Bering Sea. Obviously this is not your everyday occurrence. All family members will be camping along the way as they sojourn on paths less traveled.
From prehistoric times until the late 1950's when all weather roads were first built and air travel become common, the Yukon River was the region's highway for settlement and development. They too will be sending back GoPro Images and filming for those interested in tracking their progress. Both events can be seen at http://gojudoka.com.
Donations to help blind and visually impaired individuals to attend Judo camps, tournaments and travel expenses for worthy athletes can be made here.
The Blind Judo Foundation is a nonprofit 501(c) (3) organization whose mission is to empower the blind and visually impaired using the tools and tenets of Judo. The Funding of blind and visually impaired athletes to train, travel domestically and internationally is through tax exempt donations, their financial life-line. To learn more about the Foundation, check out blindjudofoundation.org and at Facebook or contact Ron C. Peck at roncpeck(at)blindjudofoundation(dot)org or 1-425-444-8256.