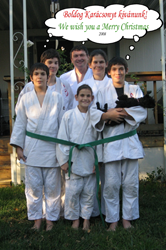 Many persons have a wrong idea of what constitutes true happiness. It is not attained through self-gratification but through fidelity to a worthy purpose.Helen Keller
San Francisco, CA (PRWEB) May 13, 2014
The Kabai Family members are always challenging themselves to accomplish those things most others would not even consider. This summer two family members Peter and Janos will bicycle from Prudhoe Bay, Alaska to San Francisco Bay, while their father Imre Kabai and another brother Andras will kayak the Yukon River all for the benefit of raising funds to support blind athletes of the Blind Judo Foundation.
Bicycling from North of the Arctic Circle Alaska (Prudhoe Bay) to San Francisco Bay is not your ordinary bike ride around the neighborhood. This "neighborhood," says Peter, will include gravel roads, desolate stretches of loneliness, and wild animal country for starters. "Motel 6 will not be an option in our journey back to California but camping under the stars is our only and intended choice," says Janos.
Biking great distances is not new to Peter and Janos. In 2012, they rode their bicycles from New York City to San Francisco experiencing the people, places, and popularity of their sojourn. They are already testing their new camping gear and spending hours building endurance for this summer's ride. The purpose is to once again create awareness of Judo for the blind and to secure donations to financially support worthy blind athletes to afford training, camps, travel, and lodging in order to excel in the sport.
Imre Kabai (father) and their brother Andras, will not be out challenged as they train with their individual kayaks to navigate the 1980 miles of the Yukon River out to the Bering Sea.
From prehistoric times until the late 1950's when all-weather roads were first built and air travel became common, the Yukon River was the region's highway for settlement and development. Imre and Andras will have a 2014 opportunity to see for themselves what still exists.
They will be navigating through the old Klondike gold rush area that saw nearly 30,000 seekers out for their fair share of gold. "The 'gold' experience won't be the same but the adventure and history of the river will be memorable," says Imre.
Both father and son practice several hours a day building their endurance while planning every last detail of the upcoming trip. "Being able to raise funds for blind kids to compete, train, and enter tournaments," says Andras, "is something I want to be a part of." Andras too is a Judoka along with his brothers, sister, and parents.
To follow the Kabai trips, check out their website to learn more.
The Blind Judo Foundation is a nonprofit 501(c) (3) organization whose mission is to empower the blind and visually impaired using the tools and tenets of Judo. The Funding of blind and visually impaired athletes to train, travel domestically and internationally is through tax exempt donations, their financial life-line. Your generous Donations are tax exempt. To learn more about the Foundation, check out blindjudofoundation.org and at Facebook or contact Ron C. Peck at roncpeck(at)blindjudofoundation(dot)org or 1-425-444-8256