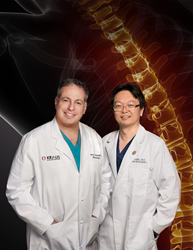 Most Patients Don't Need To See The Inside Of An Operating Room
Houston, TX (PRWEB) April 24, 2014
"Most patients don't need to see the inside of an operating room" according to Masaki Oishi, M.D., Ph.D. "So don't live in fear and pain." Dr. Kraus and Dr. Oishi are both neurosurgeons at the Kraus Back and Neck Institute in Houston, TX, which has been honored to be among the Top Doctors in Houston by H Texas Magazine, and is frequently helping patients with back pain and neck pain without surgery.
"We are extremely pleased to have the confidence of H Texas Magazine, and of the people of Houston," expressed Gary Kraus, M.D. After practicing for a combined 32 years, Drs. Kraus and Oishi (both Board Certified by the American Board of Neurological Surgery) have found that despite the fact that they can offer the most advanced cutting edge techniques related to spine surgery, the majority of patients will improve without the need of an operation, which is very comforting to patients and their families.
"Many times pain in the body indicates that something dangerous may be occurring" explains Dr. Kraus. "That is not necessarily the case when it comes to the spine." Dr. Oishi adds that "frequently pain in the back or neck can be related to degenerative changes or arthritis, as well as sprains or strains, and patients are relieved to learn that conservative non-surgical options are available."
Some of the non-surgical treatments utilized include physical medicine, such as ultrasound, electrical stimulation, massage, heat and stretching. Pain procedures including epidural steroid injections, sacro-iliac joint injections and facet blocks are often helpful. Other conservative options include inflatable braces and transdermal ointments. Surgical measures available include the most advanced techniques in minimally invasive and traditional spinal discectomies, decompressive laminectomies and fusions.
"Many patients live in pain for years because they are afraid to see a specialist. They are afraid of what an office evaluation and imaging studies of the spine may show," according to Dr. Oishi. "The majority are pleased they finally came for treatment, and we have heard patients regret that they didn't seek treatment earlier." Living unnecessarily with pain for years can often be avoided.
The team at the Kraus Back and Neck Institute focus their efforts on trying to find the source of the pain, as opposed to just treating the symptoms of pain. They will frequently see patients who present with neck pain, back pain, as well as arm or leg pain. They also see patients who have been in injuries, including motor vehicle accidents. They will arrange the appropriate studies to look for the source of the pain.
The Kraus Back and Neck Institute has treated patients with back pain and neck pain, arm and leg pain, as well as brain disorders, in Houston, since 2004. For information, or to have MRI, CT or X ray films reviewed or to schedule a consultation, the Kraus Back and Neck Institute can be reached at 281-44 NEURO (446-3876).