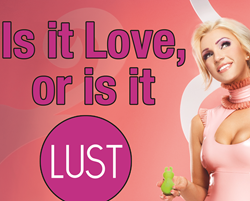 The new LUST items are here just in time for spring with the various designs and bright, fun, flirty color pallet.
Los Angeles, CA (PRWEB) April 22, 2014
JOPEN, the world's premiere luxury pleasure product company, releases the highly anticipated LUST products. There are 12 stunning new items which are now in stock and available globally.
Susan Colvin, President and CEO of JOPEN, says, "The first generation of LUST was wildly successful. The patented petal design and the many features give the end-user all the attributes they could want in a pleasure product. The new LUST items are here just in time for spring with the various designs and bright, fun, flirty color pallet. We absolutely love them and know you will, too!"
L2, L2.5, L3 and L3.5 are discreet, compact, massagers. Like the L1, they all have the highly-popular incremental speed control. L2 and L2.5 are also curved for G-spot exploration.
L4 and L4.5 are elongated massagers. They are bendable and flex to move with the user. They have the incremental speed control and are incredibly versatile, especially L4.5 which has multiple bulbs designed for anal play.
L10 is a dual motor probe that is perfect for people who are creative. It has a lot of possible uses, and with the five functions of vibration, pulsation and escalation, it is made to be versatile.
L11 and L12 are for anal exploration, and both have five functions. L12 also has dual motors which leaves even more possibilities to the imagination.
L16, L17, and L18 are dual stimulators and each boasts a distinctive design. They all have dual motors for targeted internal and external stimulation, plus they feature five fantastic functions of vibration, pulsation and escalation.
Robin Stewart, Brand Manager for JOPEN, says, "I can't believe how amazing the new LUST products are! Everyone who sees them falls instantly in love with them—or should I say in 'lust' with them? They have so many sought-after features and benefits, this is certainly one for retailers to stock in their luxury toy section."
Each LUST item is rechargeable with an included USB cord, plus they are incredibly powerful with a Lithium Ion battery. Virtually seamless, LUST products have a satin finish and are made with body-safe silicone. Additionally, all the LUST items come with a security travel lock, are 100% waterproof, have an auto on/off button with an LED indicator light, and come in a keepsake box that women can place on the nightstand.
To learn more about the latest LUST products, and other collections, JOPEN visit http://www.JOPEN.com.
About JOPEN, LLC
JOPEN is a global luxury pleasure product company with a business model focused on form and function. An expert team of women drives the creation of JOPEN's best-selling collections: Vanity, Intensity, EGO, KEY, and ENVY. Additionally, new to JOPEN are the Essence and LUST lines. JOPEN understands the luxury market and fashions JOPEN products with the features that women and men want. JOPEN has licensed, authorized distributors, which guarantee efficient, accurate, rapid delivery so retailers always have available stock. JOPEN provides pleasure with outstanding customer service, one of the best warranty programs in existence, and products that are designed to please. Visit http://www.JOPEN.com. Encounter the new standard in luxury pleasure objects.