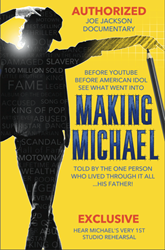 I think most Michael Jackson fans are going to be surprised
Los Angeles, California (PRWEB) June 25, 2014
The controversial "Joe Jackson: MAKING MICHAEL" feature documentary is nearing completion. Yaptone Media released the trailer today on http://www.makingmichael.com to honor Michael Jackson's 5th year anniversary of his passing.
You don't have to be a fan of Michael Jackson's father - sometimes referred to as the most hated man in show business - to want see this film. "I think most Michael Jackson fans are going to be surprised and walk away with a much deeper and more meaningful understanding of the King of Pop," says Mark Grizzle who edited and co-produced. MAKING MICHAEL is compiled from hours of exclusive interviews conducted over the last two and half years with Joesph Jackson and other Michael Jackson insiders.
For those who think Joe Jackson agreed to do this film to white-wash his tainted public image, think again. "As part of the deal, I was given full creative-control by Mr. Jackson which is extremely rare for this kind of film and I'm sure there are parts he's not going to be happy about," says Johnny West who directed the film.
"Most of the people I've spoke to about Joe Jackson say they don't like him but I think that's mainly because no one really knows him," says West. The notoriously private stage-father finally speaks up and explains how he was able to overcome racial barriers, keep 9 kids off drugs, out of jail and build the world's biggest musical dynasty only to be forced to watch from the sidelines as it all came crashing down around him years later ending in the death of his son, Michael Jackson.
The film will feature an original soundtrack by artists Kollins and Miny. You will be able to hear some of the songs later this month on http://www.makingmichael.com.
For an EPK, productions photos or to request an interview with Mr. Jackson or the director email: press(at)yaptonemedia(dot)com.