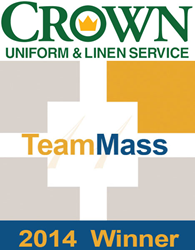 . "I commend these companies for their investments and look forward to our ongoing partnership as they continue to expand and create jobs here in Massachusetts." ~ Greg Bialecki - Secretary of Housing and Economic Development
Brockton, Massachusetts (PRWEB) November 02, 2014
Crown Uniform & Linen Service has been named as the Bronze winner for the Team Massachusetts Economic Impact Awards, awarded annually by MassEcon. The awards celebrate companies that have made outstanding contributions to the Massachusetts economy. The winners from each region will be recognized at an Awards Luncheon on November 25th at the Renaissance Waterfront Hotel in Boston. Over 400 business and community leaders are expected to attend.
"The Massachusetts Economic Impact Award winners have made great contributions to our state's economy and have spurred regional development throughout the Commonwealth," said Secretary of Housing and Economic Development Greg Bialecki. "I commend these companies for their investments and look forward to our ongoing partnership as they continue to expand and create jobs here in Massachusetts."
Crown Uniform & Linen Service was chosen because of its new 94,000 sq. ft. commercial laundering plant in Brockton, Massachusetts which represents a $16 million dollar investment. The new facility will significantly contribute to the economic growth of Brockton through the expansion of business activities and employment opportunities.
Environmentally friendly design was a consideration throughout the development process, influencing the choice of building materials, the tiered architectural design, and innovative high-tech equipment. Energy efficient technologies include automatic LED lighting, heat recovery, and a rain water collection system that allows Crown to filter and use rainwater throughout the facility.
"This has been an emotional project for our family and company and we are honored for the recognition from MassEcon. We are excited about our new home in Brockton and confident our investment in this community will lead to continued growth and job creation for Massachusetts." said George Spilios, one of the 4th generation owners and Regional Manager of Crown.
MassEcon selected the winners based on job growth, facility expansion, and investment since January 1, 2013, as well as other criteria including community involvement. Finalists competed on a regional basis, defined as West, Central, Southeast, Northeast, and Greater Boston.
"MassEcon is proud to celebrate and thank these companies for their commitment to Massachusetts. Their investment and job growth generates benefits in all regions of the Commonwealth, and we are thrilled to publicly acknowledge the achievements of these outstanding corporate citizens," stated Susan Houston, Executive Director of MassEcon.
The complete list of winners for the 11th Annual Team Massachusetts Economic Impact Awards is listed below:
SOUTHEAST:
Gold: Hydroid – Pocasset
Silver: Matouk – Fall River
Bronze: Crown Uniform & Linen Service – Brockton
GREATER BOSTON:
Gold: EF Education First – Cambridge
Silver: Biogen Idec – Cambridge
Bronze: Pfizer – Cambridge
WEST:
Gold: Sinicon Plastics – Dalton
Silver: Nuclea Biotechnologies – Pittsfield
Bronze: Menck Windows – Chicopee
NORTHEAST:
Gold: Keurig Green Moutain – Burlington
Silver: Asahi/America – Lawrence
Bronze: Entegris – Bedford CENTRAL:
Gold: Affordable Interior Systems, Inc. – Leominster
Silver: Quest Diagnostics – Marlborough
Bronze: Pall Life Sciences – Westborough
Community Heroes

AccuRounds – Avon • PlumChoice – Lowell • uniQure - Lexington
About MassEcon MassEcon, founded in 1993, is a non-profit, non-partisan entity that serves as the state's private sector partner in promoting Massachusetts as the premier choice for business growth. Its services include the state's only Site Selection Service, which helps expanding and relocating companies find a home in the Commonwealth; the Research & Information Service, which provides companies with the information they need to evaluate the Commonwealth as a location to grow; and the Massachusetts Ambassadors, a network of civic and corporate leaders who help market Massachusetts as a place to do business. http://www.massecon.com
About Crown Uniform & Linen Service: Crown has been a locally owned and operated family business for 100 years, providing uniform programs, healthcare apparel services, corporate identity apparel, floor mat services, and linen services to businesses and medical facilities in Massachusetts, New Hampshire, Connecticut, and Rhode Island. http://www.CrownUniform.com
Follow us on Facebook
###