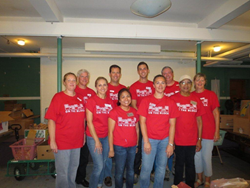 Chicago, IL (PRWEB) December 23, 2014
Throughout the year, MB Financial Bank and its employees work to fulfill the bank's commitment to building strong and vibrant communities. The bank seeks to be a community partner, focused on the well-being and prosperity of the neighborhoods it serves.
The centerpiece of the bank's efforts was the bank's fourth annual MB on the Block celebration, during which employees invested hundreds of hours in support of 16 community groups. Nearly 250 bank employees volunteered at organizations such as food pantries, youth organizations, shelters, organizations supporting people with disabilities and other, community-focused groups.
Regarding her experience at the Irving Park Food Pantry, Rose Bouman, MB Financial Bank Executive Vice President, said, "MB Financial strongly believes that each and every part of our community needs to be healthy and strong in order for the greater community to thrive. MB on the Block is only one part of our long-term commitment to support all of the communities in which we live and work."
Lee Stein, Volunteer Manager of the Irving Park Community Food Pantry, said, "For four years, employees from MB Bank have annually come to help the Irving Park Community Food Pantry distribute food to our clients. They have made our mission their own, and committed to it each year. It warms my heart to see them because they're excited to help us, and they always do it with smiles and positive energy! Our food pantry enjoys a close relationship with MB Financial because we share the same philosophy: neighbors helping neighbors!"
MB on the Block's 16 supported charities for 2014 were Irving Park Food Pantry, Aspire, Neighborhood Boys and Girls Club, Maryville Academy, Total Learning Community, Lawndale Christian Development, Cara Program, Casa Central, Anixter, Youth Build of Lake County, Loaves and Fishes Food Pantry, Lakeview Food Pantry, Northern Illinois Food Bank, Carole Robertson, Windy City Habitat for Humanity and Adler School at St. Dorothy's School.
Other important employee-based volunteer programs at MB during the second half of 2014 included:

Participating in the Making Strides Against Breast Cancer fundraiser
Teams at six sites in four states joining in the 'Light the Night' walk benefiting the Leukemia and Lymphoma Society
Conducting a food driving benefiting the Maine Township Food Pantry, along with support for the Almost Home Foundation, an animal rescue and placement group
A toy drive in partnership with Family Focus, the House of James and the Salvation Army
An organization-wide December coat drive to benefit Metropolitan Family Services
Working with Suburban Access on a Turkey drive, feeding 250 families
Grants from the MB Charitable Foundation to a number of organizations in honor of employees who made significant volunteer efforts for those organizations
About MB Financial Bank
MB Financial Bank N.A. is a Chicago-based commercial bank with approximately $15 billion in assets and a more than one hundred year history of building deep and lasting relationships with middle-market companies and individuals. MB Financial Bank offers a full range of powerful financial solutions and the expertise and experience of bankers who are focused on their clients' success. MB Financial Bank is a wholly-owned subsidiary of MB Financial, Inc. (NASDAQ: MBFI).
Learn more about MB Financial Bank at http://www.mbfinancial.com.