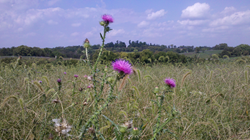 The US Civil War left a wound in our citizenry that hasn't healed yet.
Chicago, IL (PRWEB) May 26, 2014
"Memorial Day is part of our heritage," opened political scientist Bryan W. Brickner, "as the US Civil War left a wound in our citizenry that hasn't healed yet."
Brickner is the author of several political theory books, to include Article the First of the Bill of Rights (2006) and The Book of the Is (2013); the Memorial Day posting on the Bryan William Brickner Blog, War Cry Heal Union and Civil War Unknowns, introduces a summer series from Ew Publishing and honors the sacrifice of citizens unknown.
"Augustus Kotka gave a war cry on 11 August 1864," stated Brickner. "He was killed during the siege of Atlanta. It wasn't a battle day really; his death is only noted in a diary from his unit, the 99th Indiana Regiment. It parenthetically states, Augustus Kotka, Company C, killed."
"I found Kotka's federal marker headstone in Pulaski County, Indiana," Brickner continued, "and then I went to visit his burial headstone in Marietta National Cemetery in Georgia. That's how the series War Cry Heal Union began ~ with the question, who killed Kotka?"
To get to that answer, the series of summer postings looks at citizenship and representation; in the series War Cry Heal Union, all the people of We the People are grouped together ~ northern and southern, for example, in the term "The Unrepresented." The series runs from 19 June to Constitution Day on 17 September.
"The ten postings vary in topics," closed Brickner, "ranging from war to peace to free speech. They build on James Madison's idea that representing We the People according to our numbers is the American way ~ our constitutional way."
The Bryan William Brickner Blog is a collection of published works and press coverage and an ongoing resource for the political science of constitutions and the biological science of receptors.