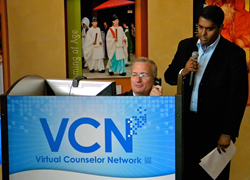 Ensuring universal access, but particularly for low-income and underserved communities, to housing, tax and credit counseling through the Virtual Counselor Network and the Housing Opportunities Collaborative will empower individuals with valuable advice
Santa Ana, CA (PRWEB) June 25, 2014
Orange County residents will have access to a network that uses an innovative new technology, the Virtual Counselor Network© (VCN), developed by the Housing Opportunities Collaborative (HOC), to transform and expand access to professional housing counseling and other services ranging from foreclosure prevention to home buying and credit counseling. Orange County's Delhi Center will receive the first Virtual Empowerment Center in the county as part of a network of strategically-located stand-alone computer terminals stretching 120 miles from Santa Ana to San Diego, and as far as San Bernardino.
The VCN is being formally launched at a press event on Monday, June 30, 2014 from 10:30 a.m. to 12 p.m. at the Delhi Center (505 E. Central Avenue, Santa Ana, CA). A live demonstration will begin at 11am. Invited guests include: Santa Ana City Council Member and Delhi Ambassador Vince Sarmiento; US Dept. of HUD, Office of Housing Counseling Director Jerry Mayer, and NeighborWorks America Sr. Homeownership Manager, Lupe Hernandez.
The Center's SparkPoint OC program will offer the community immediate access to budget, credit, legal and housing services and resources provided by nonprofit partner agencies to efficiently address public need for financial stability services. VCN centers are already in place in 14 remote locations within San Diego, Riverside, and San Bernardino counties.
"The power of the VCN extends HOC nonprofit partner agencies' helping hands to those that cannot make it through their doors by offering virtual counseling from remote locations," said Vino Pajanor, HOC's Executive Director.
HOC received funding from the Citi Foundation via Orange County United Way to support the launch of the VCN at Delhi Center's SparkPoint OC, which offers low-income individuals the opportunity to increase income, manage credit and build assets through one-on-one counseling from a financial coach. Orange County United Way created SparkPoint OC as one-stop financial empowerment centers where hard-working low-income residents can access a full range of free services. HOC worked collaboratively with all of these partners to launch the VCN in Orange County and the organization is currently seeking support to continue creating access points for the VCN and to bring its technology to smart phones and tablets as soon as resources permit.
The VCN has been in use in San Diego, Riverside and San Bernardino counties since March 2013 through a generous grant from Citi Community Development. Since its soft launch early last year, HOC reports that more than 1,800 counseling sessions have been performed through the VCN with very little marketing conducted.
"Citi's support for the innovative Virtual Counselor Network provides Orange County residents with access to technology and specialized counseling services that are not widely accessible through traditional counseling centers, via technology or in their communities," said Jessie Mosqueda, Vice President at Citi Community Development. "Ensuring universal access, but particularly for low-income and underserved communities, to housing, tax and credit counseling through the Virtual Counselor Network and the Housing Opportunities Collaborative will empower individuals with valuable advice and information in multiple languages, including English and Spanish, on available services that can be critical when planning and making household financial decisions," added Mosqueda.
Local residents and homeowners can learn more and access the Virtual Counselor Network© now at http://www.VirtualCounselorNetwork.org or by calling 800.826.1502.
# # #
About the Housing Opportunities Collaborative
Housing Opportunities Collaborative is a 501(c)(3) tax exempt HUD approved counseling intermediary, established in 2005 by a coalition of HUD approved housing counseling and fair housing agencies, other housing related nonprofit organizations, business organizations, and government agencies that support all aspects of housing rights and responsibilities. It was created to serve as an information clearinghouse by consolidating housing and related information, making it easily accessible to the public and partners. To improve the delivery of services to the community, the HOC developed the Virtual Counselor Network in 2013 to digitally connect social services agencies and partner organizations to the community using the power of technology.
Orange County HOC Nonprofit Partner organizations who have signed up to have Virtual Counselors on the VCN include: Affordable Housing Clearinghouse, Consumer Credit Counseling Service of OC, Fair Housing Foundation, NeighborWorks OC, Legal Aid Society of OC, Public Law Center, and SparkPointOC at Delhi and Abrazar.
About SparkPoint OC
Orange County United Way launched SparkPoint OC: one-stop financial empowerment centers where hard working low-income residents can access a full range of free services. Families are teamed with a one-on-one financial coach who assists them with creating a step-by-step plan in three areas:

Increasing income, from accessing public assistance to free tax prep, to job training and placement
Managing credit, including improving credit score, managing debt, and creating a household budget
Building assets, including matched savings accounts, and first-time home buyer programs
SparkPoint OC's two financial empowerment centers have helped more than 200 families in the last year. Services may vary per location. Listed Below are the 2 Orange County locations:

SparkPoint OC at Delhi Center in Santa Ana. For more information, please contact Director of Special Projects, Jeanette Valencia, at 714.481.9600
SparkPoint OC at Abrazar in Westminster. For more information, please contact SparkPoint OC Program Director, Leslie Aguilar, at 714.893.3581 (EXT: 129).
About the Citi Foundation
The Citi Foundation works to promote economic progress in communities around the world and focuses on initiatives that expand financial inclusion. We collaborate with best-in-class partners to create measurable economic improvements that strengthen low-income families and communities. Through a "More than Philanthropy" approach, Citi's business resources and human capital enhance our philanthropic investments and impact. For more information, visit http://www.citifoundation.com.
About Delhi Center
Since 1969, the Delhi Center has been a nonprofit organization that improves lives through education, health, financial stability and community engagement. We believe every child, family and neighborhood deserves an opportunity to reach its full potential and build a brighter future. With upward of 42,000 visitors annually, the center hosts 45 program offerings and collaborates with dozens of local partner agencies. Delhi's 2014 premiere programs include financial coaching through SparkPoint OC, resident engagement through its Community Building Initiative and the first Virtual Counseling Network in Orange County. The Delhi Center prides itself on serving as a model for service delivery and leadership development while strengthening the local neighborhood, city and county. For more information, please visit http://www.delhicenter.org.