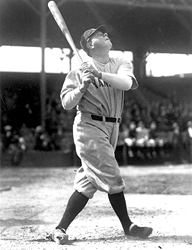 Every strike brings me closer to the next home run. - Babe Ruth
San Francisco, CA (PRWEB) July 15, 2014
Lefty's the Left Hand Store salutes left-handed All Star Team Players. The team with the most lefties has a big advantage in the 2014 All Star Game. With 15 left-handed and ambidextrous players (switch-hitters, or lefty batters who throw right), the American League Team has a distinct advantage over the National League which only includes 12 lefties. Especially significant is the difference in pitchers - the American League has 6 lefties, with the National League fielding only 4 southpaws.
Summertime is Lefty-Time. For a variety of reasons, lefties excel at baseball. Though lefties make up only 10 - 12% of the populations, they make up 25% of professional baseball players. 43% of Major League Baseball plate appearances are by left-handed batters, including true lefties, switch-hitters, and players who bat left and throw right.
Baseball favors lefties in several ways. Lefties are already moving towards first base as soon as they swing the bat, while righties have to reverse their batting momentum to head towards first. Lefty hitters also have a much easier time seeing the ball when thrown by a right-handed pitcher, still the majority of pitchers.
According to Melissa Roth's The Left Stuff, humans have evolved with much more speed and accuracy in their left arms. Our ancestors would hang from trees with their right hands, while grabbing bugs and fish with their left.
Lefties are able to use both sides of their bodies far more than right-handers, because the world is designed for right-handers. This makes them all around better athletes. In brain science, lefties use both hemispheres of the brain, which makes them more coordinated than right-handers who primarily operate physically from the left hemisphere.
Based on handed-ness, the American League has a big lead. Here is the roster of lefties and ambidextrous hitters for 2014:
American League Starting Roster - including Lefties, Switch-hitters, Cross-Over players (bat left, throw right) and Pitchers
C Matt Wieters, Orioles
2B Robinson Cano, Mariners
OF Jose Bautista, Blue Jays (leading vote-getter overall)
LHP Jon Lester, Red Sox
LHP Scott Kazmir, Athletics
LHP Mark Buehrle, Blue Jays
LHP Sean Doolittle, Athletics
LHP Glen Perkins, Twins
LHP Chris Sale* White Sox
Reserve Roster
1B Victor Martinez, Tigers S/R
1B/OF Brandon Moss, Athletics L/R
SS Erick Aybar, Angels* S/R
3B Kyle Seager, Mariners* L/R
OF Alex Gordon, Royals L/R
OF Michael Brantley, Indians L/L
National League Starting Roster, including Lefties, Switch-hitters, Cross-Over players (bat left, throw right) and Pitchers
2B Chase Utley, Phillies
LHP Clayton Kershaw, Dodgers
LHP Madison Bumgarner, Giants
LHP Aroldis Chapman, Reds
LHP Tony Watson, Pirates
Reserve Roster
1B Freddie Freeman, Braves L/R
C Miguel Montero, Diamondbacks* L/R
1B Anthony Rizzo, Cubs* L/L
2B Dee Gordon, Dodgers L/R
2B Daniel Murphy, Mets L/R
3B Matt Carpenter, Cardinals L/R
OF Charlie Blackmon, Rockies L/L
Visit Leftys the Left Hand Store in person at Pier 39, San Francisco; The Market Place at Downtown Disney, Walt Disney World Resorts and Old Town Kissimmee, FL., and on-line at http://www.thelefthandstore.com.