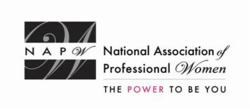 "My family has been in the oil and gas industry for three generations,"
Garden City, NY (PRWEB) January 12, 2014
NAPW honors Tiffany Justice Gibbs as a 2013/2014 Professional Woman of the Year for leadership in the oil and gas industry with this prestigious distinction. As the largest, most-recognized organization of women in the country, spanning virtually every industry and profession, the National Association of Professional Women is a vibrant networking community with over 600,000 members and nearly 400 Local Chapters.
"My family has been in the oil and gas industry for three generations," says Ms. Gibbs. "My grandfather worked in the oil fields when he was in high school and still continues as a consultant. My father built and sold two publicly traded oil companies when I was a child."
Following in her grandfather's and father's footsteps, Ms. Gibbs founded Pro Energy 1 Resource, LLC in January 2013. Today, the company operates over 480 acres of oil leases with 18 producing wells.
The company's success is due in large part to Ms. Gibbs' strong work ethic, her expansive knowledge of the industry and the pride she takes in running her company "the old school way." As owner and CEO, Ms. Gibbs is involved in every aspect of the business, from accounting to marketing to sales. Whether she is working at her office computer or out in the fields, Ms. Gibbs manages to effectively communicate with employees and crew on a daily basis. Paramount to her responsibilities is her careful monitoring of Pro Energy's strict adherence to the Railroad Commission of Texas' Rules and Regulations.
Although Ms. Gibbs never thought she would work in such a male-dominated industry, "Here I am!" she says. With an eye to the future, Ms. Gibbs is planning on expanding the company in 2014 by purchasing more oil leases.
NAPW provides an exclusive, highly advanced networking forum to successful women executives, professionals and entrepreneurs where they can aspire, connect, learn and achieve. Through innovative resources, unique tools and progressive benefits, professional women interact, exchange ideas, advance their knowledge and empower each other.