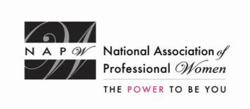 "This philosophy has fostered in me a client first attitude which has been my trademark."
Garden City, NY (PRWEB) March 14, 2014
NAPW honors Ms. Marcia Nascimento, vice president at BNY Mellon as a 2013/2014 Professional Woman of the Year for leadership in banking with this prestigious distinction. As the largest, most-recognized organization of women in the country, spanning virtually every industry and profession, the National Association of Professional Women is a powerfully vibrant networking community with over 600,000 members and nearly 400 Local Chapters.
Marcia Nascimento is a seasoned professional with 25 years in the financial industry with primary focus in Latin America. Her dedication over the years has been far reaching, as evidenced by her successful ability to deliver outstanding financial services. Ms. Nascimento's success is due to making herself an extension of her clients and by creating team promoting partnerships between organizations. "This philosophy has fostered in me a client first attitude which has been my trademark," says Ms. Nascimento.
In her highly esteemed position at BNY Mellon, Ms. Nascimento oversees the relationship management of a broad range of clients, including banks, prime brokers, asset managers, fund companies, central banks and multinationals. She specializes in global custody of securities, strategic operational planning, market analyses and trends. Along with her strong vision, Latin American roots and fluency in Portuguese and Spanish Ms. Nascimento has developed many long-standing key relationships with financial organizations.
Ms. Nascimento maintained several key positions with Banco do Brasil, Deutsche Bank and Brown Brothers Harriman & Co. She is a strong supporter of BNY Mellon's Women Initiative Network (WIN), which is led by the company's president Mrs. Karen Peetz. Ms. Nascimento is a two-time New York Marathon participant promoting fund raising campaigns for children's literacy in Brazil. She is also drawn to and passionate about companies that promote corporate social responsibility at the heart of their investment strategy and is committed to promoting diversity and empowerment of female professionals. Ms. Nascimento supports a number of charitable affiliations locally and internationally, such as, Dress for Success and the Brazil Foundation.