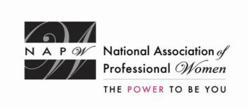 My biggest accomplishment is taking the risk of starting my own business.
Garden City, NY (PRWEB) May 20, 2014
NAPW honors Laurie Oleksy as a 2014 Professional Woman of the Year. Ms. Oleksy is recognized with this prestigious distinction for leadership in marketing. As the largest, most-recognized organization of women in the country, spanning virtually every industry and profession, the National Association of Professional Women is a vibrant networking community with over 600,000 members and nearly 400 Local Chapters.
"I have been around advertising my entire life. My father produced TV commercials, so I was always interested in the business," says Ms. Oleksy, Principal/Marketing Director of FUSION b2b. "Taking on the task of starting an entire business and staff to do work for clients was a big risk and a completely new challenge."
Clearly, Ms. Oleksy was up to the challenge, as is evidenced by the award-winning work FUSION has created for its clients. Ms. Oleksy uses her more than 30 years of marketing and advertising experience, which includes a highly successful career as a freelance graphic designer, along with her keen business sense, to expertly guide both the strategic and creative teams at the full-service integrated marketing communications and advertising agency.
Ms. Oleksy is fully involved in every detail of every project, from marketing communications to branding to internet marketing, and more. She ensures that everything FUSION creates for clients is not only highly innovative, but also on time and on budget. To that end, she is responsible for all account management, strategic planning, art and creative direction for every FUSION project, and handles new business development, as well. Proud of where her entrepreneurial spirit led her, Ms. Oleksy has never regretted her decision to strike out on her own. "My biggest accomplishment is taking the risk of starting my own business," she says.
NAPW provides an exclusive networking forum to professional women where they can aspire, connect, learn and achieve. Through innovative resources, tools and benefits, members interact, exchange ideas, advance their knowledge and empower each other.