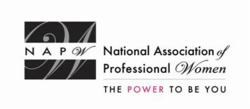 My passion is shown throughout all my personal and business accomplishments. I enjoy doing my job and doing it well.
Garden City, NY (PRWEB) January 19, 2014
NAPW honors Maria Soto as a 2013/2014 Professional Woman of the Year for leadership in advertising with this prestigious distinction. As the largest, most-recognized organization of women in the country, spanning virtually every industry and profession, the National Association of Professional Women is a vibrant networking community with over 600,000 members and nearly 400 Local Chapters.
"I love, love, love the fact that I am working for organizations that make a difference," says Mrs. Soto, who had previously worked for profit-driven advertising companies such as Foote, Cone and Belding and MTV Networks before joining PlowShare Group, an advertising company solely dedicated to nonprofit organizations. So inspired by creating pro-bono PSA campaigns helping to make the world a better place, Mrs. Soto soon developed the company's very own media outreach department, where she now serves as vice president.
For the past 13 years at PlowShare, Mrs. Soto has directed a skilled team of media outreach specialists responsible for outreach to all avenues of media outlets. With her well-honed talent and expertise in media outreach management, she has built substantial relationships with a multitude of media outlets, leading to tens of millions of dollars in donated time and space and helping emerge PlowShare Group as the second largest agency in the industry. Mrs. Soto is a respected figure amongst several media trade associations and Hispanic television networks, a position upheld by her impressive professional record and results-driven work ethic.
Mrs. Soto's time is divided between PlowShare's Stamford, CT offices and Phoenix, AZ, where she is currently working on expanding the company's services and developing PlowShare West. "My passion is shown throughout all my personal and business accomplishments. I enjoy doing my job and doing it well," she says.
About NAPW
NAPW provides an exclusive, highly advanced networking forum to successful women executives, professionals and entrepreneurs where they can aspire, connect, learn and achieve. Through innovative resources, unique tools and progressive benefits, professional women interact, exchange ideas, advance their knowledge and empower each other.