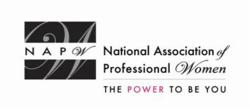 Garden City, NY (PRWEB) March 25, 2014
NAPW honors Nanci Rainey, author and fundraiser as a 2014 Professional Woman of the Year. Ms. Rainey is recognized with this prestigious distinction for her leadership. As the largest, most-recognized organization of women in the country, spanning virtually every industry and profession, the National Association of Professional Women is a powerfully vibrant networking community with over 600,000 members and nearly 400 Local Chapters.
Ms. Rainey is an extraordinary and multi-faceted woman, born with a gift for writing and business. When her children were small she contributed to the family income by typing from home. By the time they reached college age, Ms. Rainey found a successful career managing a law firm, but a spinal cord injury incurred during a surgical procedure would interrupt her peaceful and contented life. Months of rehabilitation offered her the opportunity to record her experience in hopes of being helpful to others suffering a similar fate. A published author, her latest book, Believe in a Way Back, chronicles her valiant journey.
Ms. Rainey's first book, "Just One More Day in the Driver's Seat," is a touching and heartbreaking story that details her son Billy's 23-month ordeal with Desmoplastic Small Round Cell Tumor (DSRCT ), a rare form of cancer. In it she records his many symptoms, surgeries and sufferings. "Just One More Day" is told from a loving mother's perspective. It is her hope that this book will help others cope with the devastating the loss of a child.
It is Ms. Rainey's mission to bring DSRCT awareness to physicians as well as to the general public in the promise of early diagnosis.
About NAPW
NAPW provides an exclusive, highly advanced networking forum to successful women executives, professionals and entrepreneurs where they can aspire, connect, learn and achieve. Through innovative resources, unique tools and progressive benefits, professional women interact, exchange ideas, advance their knowledge and empower each other.