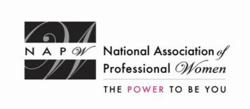 Garden City, NY (PRWEB) March 25, 2014
NAPW honors Carol Ann Tarter Petersen, independent business consultant at CATP Enterprises, as a 2014 Professional Woman of the Year for leadership in business development and customer acquisition with this prestigious distinction. As the largest, most-recognized organization of women in the country, spanning virtually every industry and profession, the National Association of Professional Women is a powerfully vibrant networking community with over 600,000 members and nearly 400 Local Chapters.
In addition to outstanding professional excellence and dedication to women's achievements, Ms. Tarter Petersen is honored for her positive impact on the lives of others — helping small/mid-sized businesses and Fortune 100/500 companies consistently and cost-effectively win multi-millions of dollars of business.
A customer acquisition expert with 30-plus years of experience in management, communications, marketing and business development, Ms. Tarter Petersen has a proven track record: significantly increased contract win ratios (70-90%), increased revenues (100% or more), higher quality consistency, improved operational- and cost-effectiveness and customer satisfaction. Her noteworthy, diverse client list includes local, national and international organizations such as Martin Marietta Corporation, TRW/Northrop Grumman, Amoco Oil, CH2M HILL, DOE National Renewable Energy Laboratory, Colorado PTAC, Denver Metro Chamber of Commerce SBDC and International Association of Business Communicators.
Through her consulting/training business, Ms. Tarter Petersen, a published author and speaker, provides development, implementation and support services for business/proposal development, marketing and communications functions. In addition to customized infrastructure development and hands-on proposal support, she conducts training, helping companies gain that significant business edge by consistently developing competitive proposals that actually win, while still maintaining a smart overhead strategy.