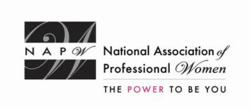 I consider myself an executive-turned-entrepreneur with an avid passion for a healthy lifestyle.
Garden City, NY (PRWEB) March 18, 2014
NAPW honors Jayne M. Wood as a 2014 Professional Woman of the Year with this prestigious distinction. As the largest organization of women in the U.S., the National Association of Professional Women is a vibrant networking community with over 600,000 members and nearly 400 Local Chapters.
"I consider myself an executive-turned-entrepreneur with an avid passion for a healthy lifestyle!" says Ms. Wood, president of Go•Lo Foods/Healthy Life Seasons and an active spokesperson for the wellness community at large.
Ms. Wood's enthusiasm for living a healthy life took hold after she suffered a serious knee injury over 30 years ago. Determined to overcome the effects the accident had on her body and spirit, she embarked on a journey that led her to discover the healing benefits of proper nutrition and fitness. Ms. Wood made a full recovery and went on to enjoy a successful marketing career. And, she never stopped believing in the importance of living a healthy, joyful life and the power of the mind/body connection.
Over time, Ms. Wood's passion for maintaining a healthy lifestyle ignited a fierce determination to help others do the same. Two years ago, she made the bold leap to entrepreneurship and developed Go•Lo Foods (GLF), a manufacturer/wholesaler of tasty, lo-carb, lo-sugar breads, bagels and more, and Healthy Life Seasons, an online retail source to market the products to the public. Today, GLF products are also available through Amazon.com, Netrition.com and Mother's Markets in California. Plus, this year, a number of products, including GLF's own hazelnut spread, were featured in celebrity gift bags at the Grammy's.
An advocate for living a well-balanced lifestyle, Ms. Wood never stops doing what she can to help others. She co-authored/edited The Beverly Hills Shopper, an in-depth look at consumer behaviors and is currently writing Going Lo, a book on healthy living, and developing a lo-carb lifestyle program to go along with it. Ms. Wood is also working with several well-known chefs in the area to help others find more flavorful lo-carb, gluten-free options in their menus.